This chef claims that we all have been cutting onions incorrectly! Here is his trick for not crying!
Onions are the starting point for cooking many delicious dishes. Cutting an onion is not really difficult, yet it creates problems for many people --- why?
Clearly, it due to its special gas which is able to produce tears, that threatens to ruin the finest make-up or make our eyes red for a long time. Finally, however, the solution to this very annoying problem seems to have arrived!
Now, we have a chef, and according to him, to avoid tears, all we have to do is to cut the onions following his method.
According to the chef, it is the central part that causes tearing. Therefore, it must be eliminated by cutting the onion with the knife slightly angled on the end with the roots.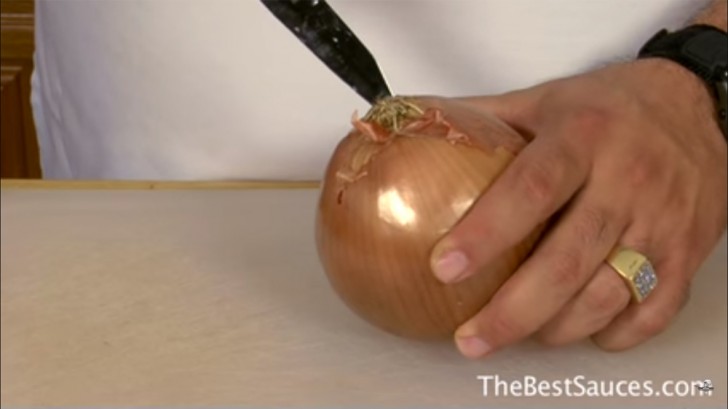 Then, you can go ahead and eliminate the brown outer leaves and eventually the first hardest layers.
At this point, the chef recommends cutting the onion in half starting from the other end.
 Cut each half horizontally.
Then make vertical cuts to obtain very small pieces that are ideal for sautéing.
In this way, you can even cut an onion in the presence of guests, and no one will suffer!