16 upcycled items that will make your garden or balcony unique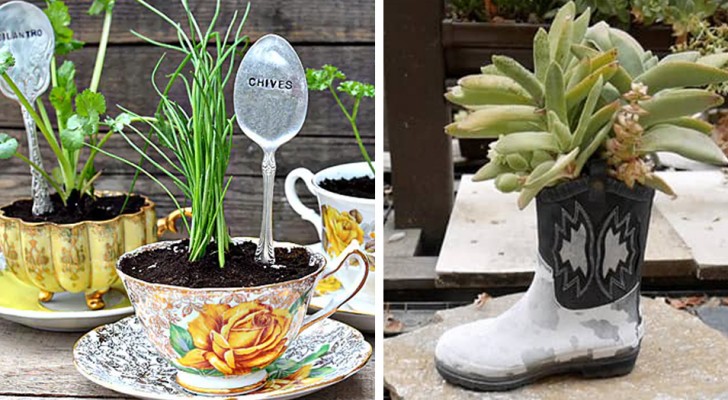 Advertisement
Upcycling is the watchword of our daily life, adopted as a solution to reduce the amount of waste and pollution caused by our current system of production and yet upcycling can have not only positive practical applications but also aesthetic.
Consequently, upcycling has entered the world of fashion and design, giving new life to garments and objects otherwise destined for landfills.
Below we propose some original ideas to transform old boots, crockery, tires, and even toilet bowls into unique pieces of outdoor decorations, able to give a personal touch - romantic, vintage or simply witty - to your garden!
Advertisement
1. A garbage can becomes a colorful planter.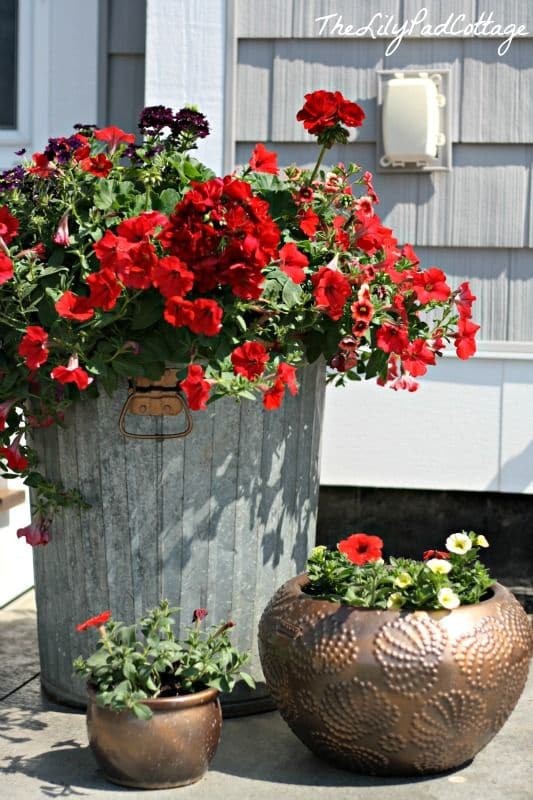 What better example of recycling than that of a bin turned into a vase? You do not need anything but a simple metal basket and a plant to insert inside - better if loaded with colored flowers and proportioned to the size of the bin.
2. A tire that rocks!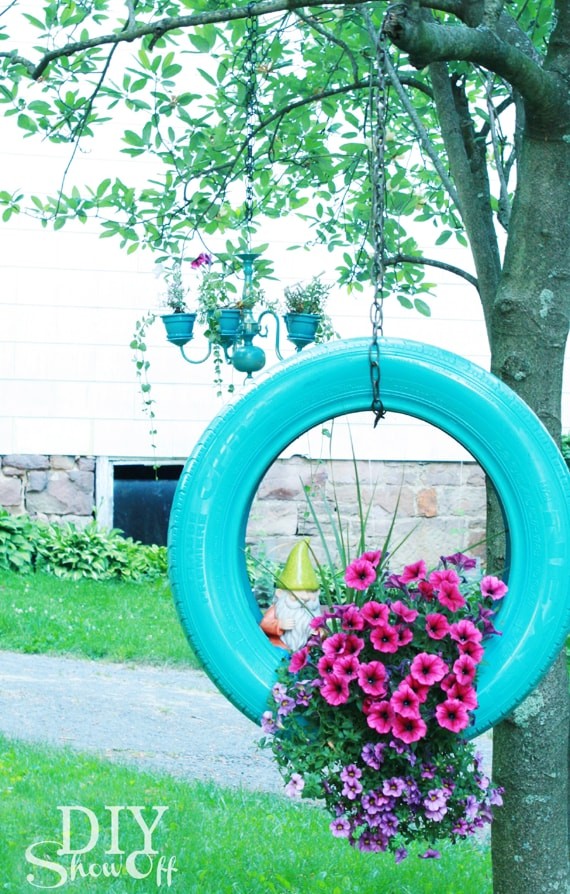 You cannot figure out how to get rid of an old punctured tire? Just paint it and hang it from a tree in your garden! You can make it gorgeous by planting flowers inside it!
Advertisement
3. "Mirror mirror on the wall, who has the most beautiful garden of them all?"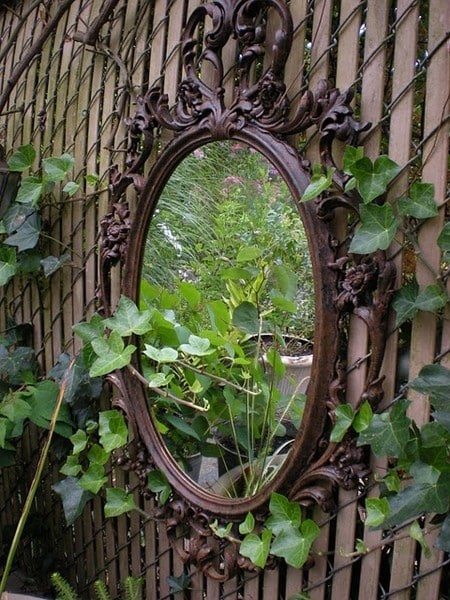 Hang an old mirror on a wall, gate or wire fence around your garden (be careful that it is strong enough to support its weight!). The reflections in the mirror will multiply the colors and shapes in your garden!.
4. Bird cages ... without birds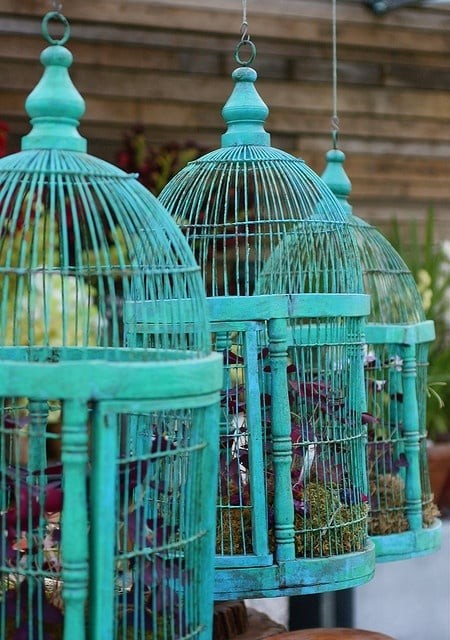 Did you have a little bird, but it has flown away? Do not lose heart! You can fill the cage with flowers (those that do not mind growing in a cage, of course!) An extra tip? Paint the birdcage aquamarine green and put several in a row to create a romantic pathway in your garden.
5. Evergreen ... shoes!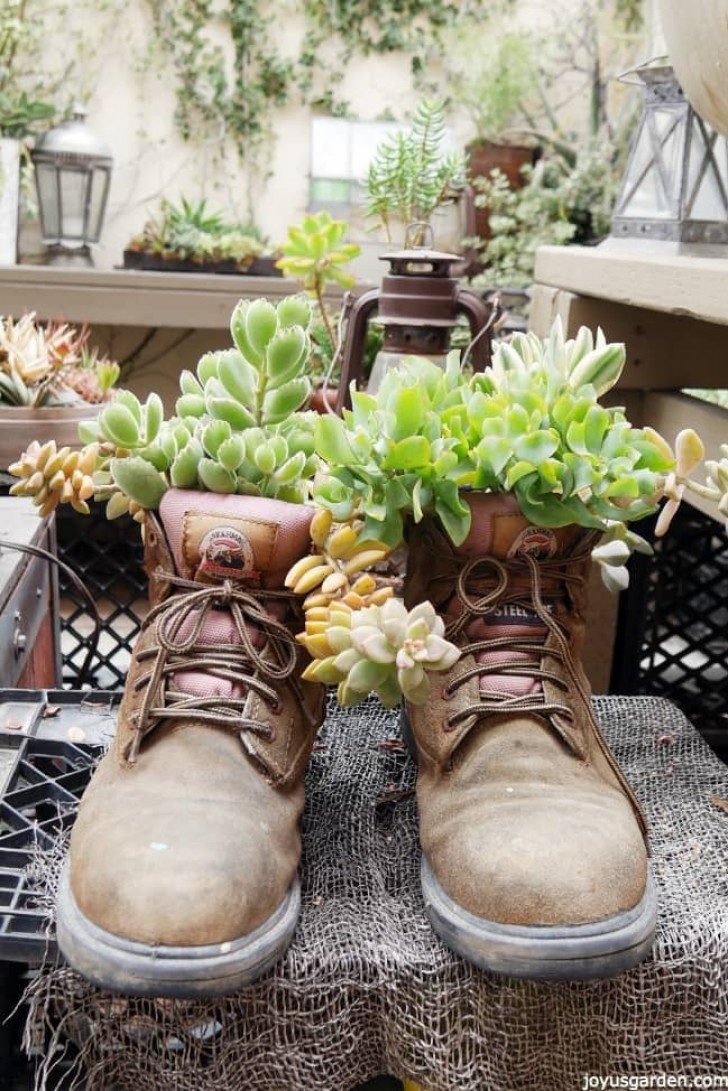 If you have a pair of old boots that you do not use anymore you can turn them into entertaining flower vases. Always in style!
Advertisement
6. Wine corks?! Yes, but with your own personal touch!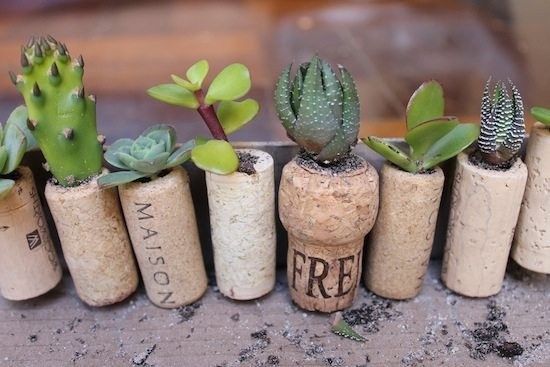 Wine corks, which are made of cork or plastic, can be drilled to insert mini succulents and cactuses. Given their modest size, it is advisable to combine them in groups of different types, to be placed on the windowsill. Or to fill in holes.
7. Old tires become a garden oasis of colorful planters and vases!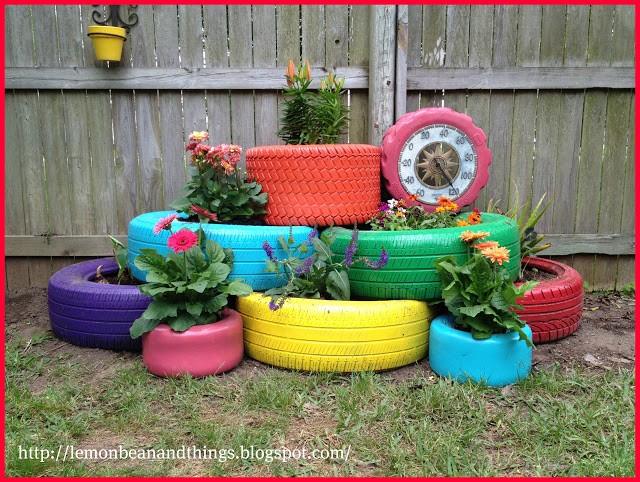 If instead of just one old tire, you find several abandoned in the garage, you can use them to create a colorful and vibrant oasis in your garden. Combine and arrange the old tires, paint each one with your favorite colors and insert plants and flowers at your pleasure.
Advertisement
8. Toilet bowls that smell wonderful!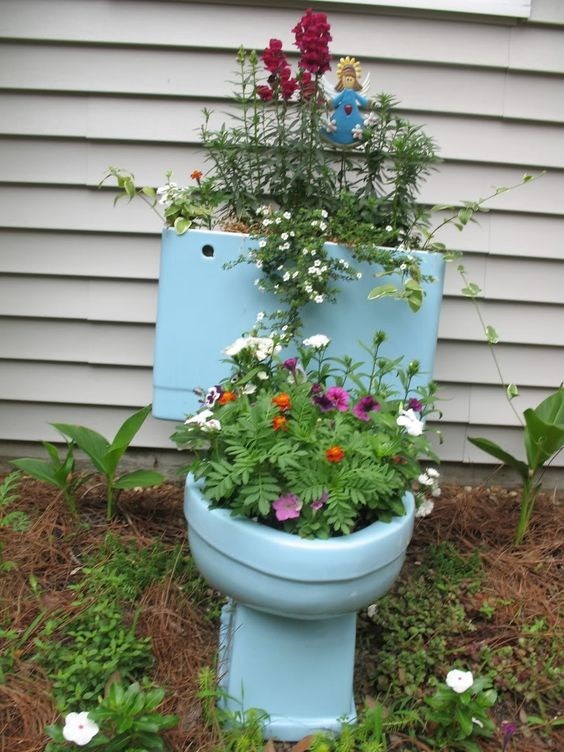 Upcycle your toilet bowl so that is overflowing with bright and fragrant flowers! This is an idea that will not fail to surprise and entertain your guests! If you are not lucky enough to find a colorful one - as in the image- you can always repaint it.
9. Colander in the garden.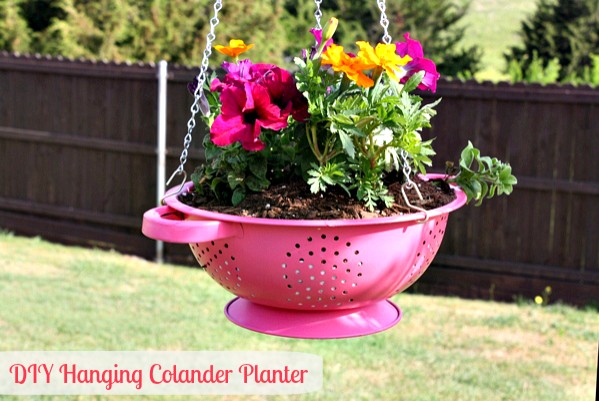 It may sound strange, but it is undeniable that it is of great effect! Paint a colander with pastel colors and use it as a planter or vase and hang it in your garden.
Advertisement
10. A floral showcase made with doors and windows.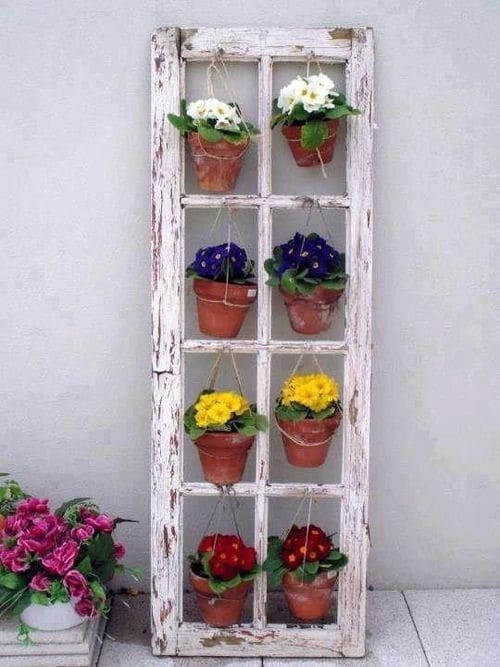 Displaying a rustic flavor, that is very fashionable, doors and windows in repainted wood can be used to showcase plants in an original and orderly way, giving character to your garden.
11. Tea or coffee cups ... full of living herbs or flowers!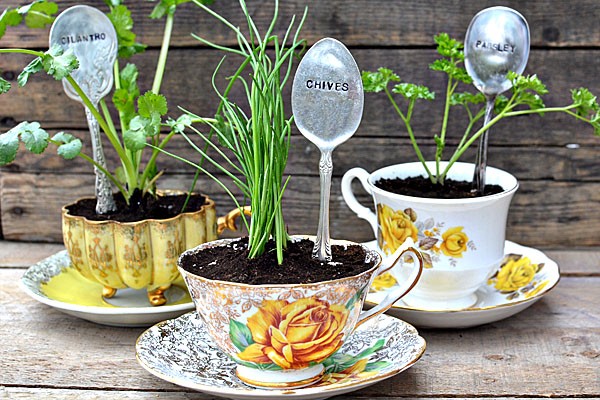 Shabby chic cups and other cups no longer in excellent condition can be transferred from the living room to the garden and used as planters or vases. They bring with them a decidedly romantic mood! The extra idea? Pair them with some teaspoons on which you will have printed or engraved the name of the herb or flower.
12. Taking your flowers for a virtual bicycle ride.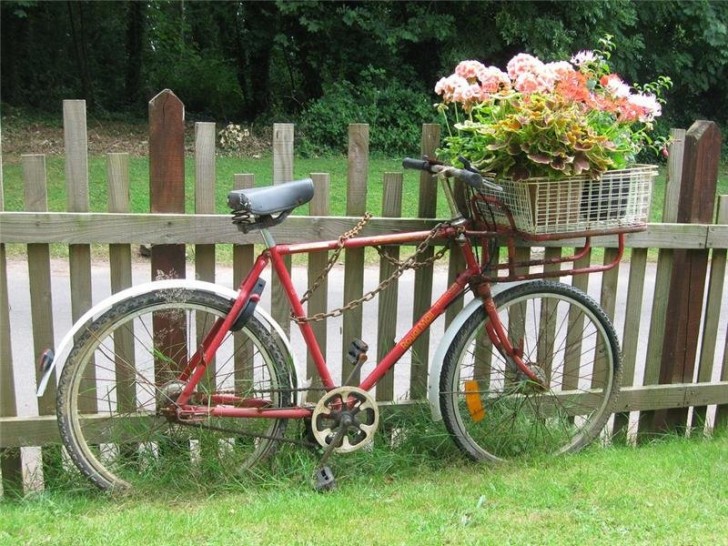 Do you still keep your old childhood bicycle or do you have an old one that is rusting in the cellar? It's time to take it out and put it on display in the garden! Use the front and back baskets as flower stands - and if you do not have any baskets, get them in a flea market or hang the seedlings on the handlebars!
13. A sink in the garden.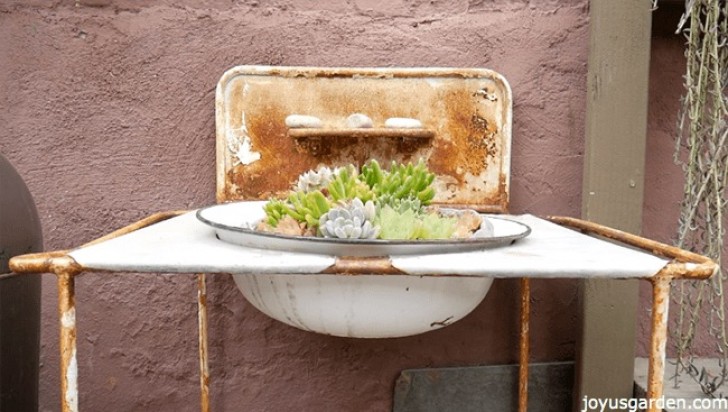 If you are lucky enough to have an old style sink at hand, you can use it to decorate your garden. Use it with succulent plants.
14. A solitary boot in the company of flowers.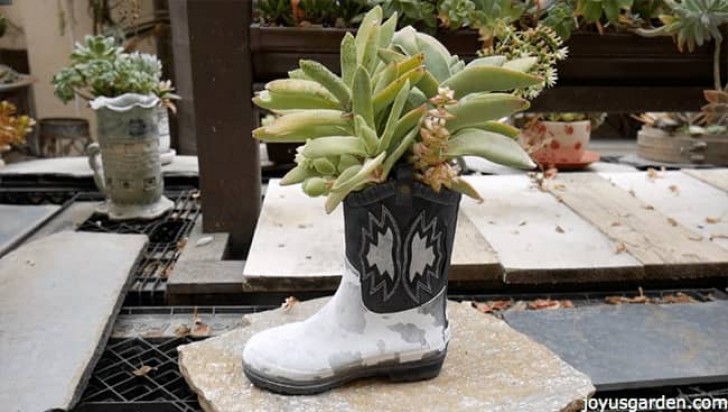 There's only one left of an old pair of boots, and do you think that the only solution is to get rid of it? Wait! You can always upcycle it as a flower vase in the garden ...