She was abandoned in a bush at 9 months of age and to discover the truth it will take 80 years!
In the summer of 1937, a baby girl just nine months old was found by chance hidden inside a bush with her hands tied in front of her. 
To accidently discover her was a family that happened to be spending their vacation in that area. Of the baby girl's parents there was no trace.
That girl, now called Anthea Ring, has spent her entire life wondering what was the reason for that gesture that could have easily ended her life.
Finally, at the age of 80, she has found some answers, thanks to the modern techniques of genetic genealogy.
Found by chance abandoned on a hill in a bush ...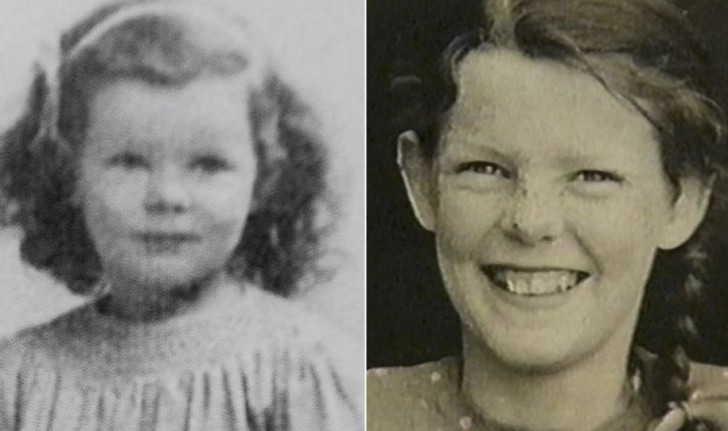 Like every year, the family Dodd was spending their summer vacation in the South Downs of Sussex when suddenly the mother, Mrs. Dodd, heard a crying sound, and as much as it seemed absurd, she knew instantly that nearby there was a baby.

And she was right! Under a bush, with her little hands tied in front of her, her body full of insect bites and stings, hungry and desperate there was actually a baby girl. The baby was taken to Worthing hospital, where she remained for six months, waiting for the police to carry out their investigation and find her family. Unfortunately this was not possible and so Anthea was given up for adoption to Douglas and Margaret Shannan.
At the age of 24, already the mother of two children and on the occasion of the birth of daughter Christine was when her foster parents decided to talk to her.
Anthea had known from the age of nine that she had been adopted, but was completely unaware of the circumstances of her discovery.
On that occasion, Anthea learned how and where she was found and how the police had launched a nation-wide investigation and search for attempted murder.
That day Anthea went home and wept long and hard and told her husband everything but she then decided to just forget about it. But when she became a grandmother, the memories came back and with them the desire to discover her family of origin.
Anthea began conducting her research in 1994, when she was already 57 years old ...
She had no idea how difficult the path she had decided to take would be.
The first clue was from a police officer who had worked on her case. He told her that he was sure that she did not come from a family in the area, simply because in a such a close-knit community something like that would have been impossible to keep a secret. Anthea had to have been born elsewhere.
The woman failed to discover anything else until 2012 when she decided to undergo a DNA test that would have revealed something about her ethnicity.
The results revealed that Anthea was 92% Irish and that she had relatives both in Ireland and in the United States. Through some further research it was possible to trace a female cousin who was assumed to be on the part of the father (although they did not know anything about him yet). The woman's name was Jane and she was living in North Carolina but whose origins were from Mayo County in Ireland.

Two years later the research led to another person who had a good chance of being a relative of Anthea, namely, Ann, in Galway County also in Ireland. However, she had no traits in common with Joan and this suggested that the family relationship, this time, was on the maternal side.
The turning point came in 2016, when the genetic genealogy expert Julia Bell became aware of her personal history and set out to help her.
The woman encouraged her to undergo other tests with different companies because she claimed that since five years had passed since her first attempt, the chances that a distant relative had done the same were not to be ignored.

The various results made it possible to connect Anthea to other distant relatives, and although the network was intricate, this allowed her to make progress with her research and assume that one parent came from the O'Donnell family and one from the Coyne family.
The name O'Donnell was the name that pushed the investigation ahead full speed!
Anthea says, "I had ordered a copy of the registration of illegitimate births for the year 1936 in England and Ireland, and among them was the name of a certain Ellen O'Donnell, born in 1911 and who in 1936 had given birth to a baby girl."

Anthea was able to discover that Ellen had been married in 1945, so that would be seven years after her birth, and had had four other children. One of them agreed to submit to DNA testing and it was finally proved that he was her half-brother.

Thanks to this information, the Anthea managed to find her birth certificate! She was born on 20 November 1936 and her name was Mary Veronica. According to other documents, her mother had moved to London with the little girl and had been a guest at several institutions for single mothers. The dynamics of her movements suggests that the young woman wanted to keep the baby, but then suddenly all traces of her movement are lost and along with them the explanation for why the baby girl was left on that hill under a bush.

In the 1930s, however, London was affected by sad episodes of child trafficking. Many unmarried mothers were paying families to keep their children during the workday, but some of them took advantage to sell the children to other families, usually wealthy, who were unable to have their own.
The most accepted possibility is that Anthea had become the object of an exchange that went bad.

At that point, the identity of the father was still a mystery, but the research work of Julia Bell, at that point, had borne fruit. She had managed to locate a group of six Irish brothers who in 1936 was in London on business.
To figure out which of them was the father required one last effort.
After excluding four of six brothers for logically reasons, there were two who had not had children. So, how to proceed with DNA testing? The last attempt was made by using some of the letters that one of them had sent to the relatives and cousins that Anthea had found and whose letters she had saved and preserved.
In the video below you can see the moment where the mystery was finally solved.