These 22 powerful images show that it is kindness that makes the world go round!
Nameless heroes of public toilets who warn you of the absence of toilet paper before it's too late ...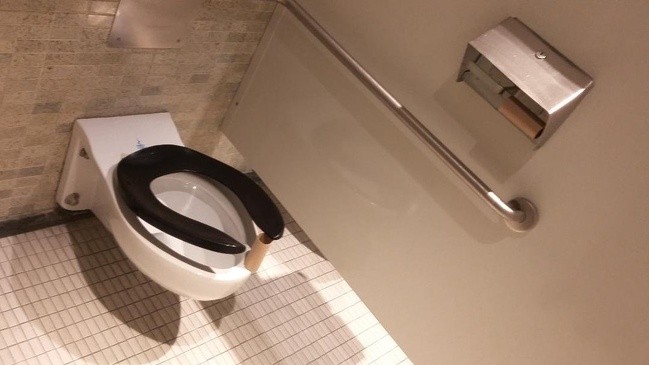 My mother volunteers in a kennel and today they had a photo shoot to encourage pet adoption!
This school cannot afford computers so this enterprising teacher draws a Word sheet with chalk in the smallest details.
A policeman receives an award from the man who he once saved from suicide.
This maid interrupted her work to rush to help an elderly man ... Her gesture touched my heart.
This cat was very thirsty but there were no containers nearby so this man made several times trips back and forth to let it drink water from his hands.
This man cooks enormous amounts of food to share it with others. Sometimes, it is shared with the other members of the village and sometimes with the poor.
When you're a child, you've got the most dedicated babysitter in the world!
This man travels dozens of kilometers every day in the African heat to save animals from a drought.
I was in a bar when I saw a guy who was using his laptop to look for information to heal a little bird he had just saved.
He discovers that his taxi driver has never set foot in an amusement park and so he offers to pay for his admission ticket and...
I could not be more proud of my daughter! At age 6 she donated her hair to make wigs for cancer patients.
The boy in the picture is called Anthony Borges, he is 15 years old and during the massacre that took place in his school (Florida) he protected 20 of his classmates with his own body --- he was hit by five bullets.
I made some cookies and went to the nursing home in our area. One of the patients told me that he had not received a visit for 3 years.
A Syrian refugee feeds homeless Germans to "reciprocate hospitality."
This retired man has dedicated his time to pampering and cuddling children in the intensive care unit at an Atlanta hospital for 12 years.
The babysitter had ditched him at the last minute, so this student asked for permission to attend the lesson with his 4-month-old daughter and his professor did not object!
Students from this school gave their schoolteacher two tickets for a Red Hot Chili Peppers concert. He could not afford them.
We are in Cape Town in South Africa and this man, unemployed, is spotted while cleaning up the Bantry Bay beach without any compensation. He explains, "I just want to help clean up this beautiful place."
A special wheelchair that allows him to come in contact with the sea ...
This library allows less well-off customers to read books even without buying them.
Two policemen offer lunch to a man with a mental disability.