A couple discovers thanks to a photo that they were in the same place 10 years before meeting each other!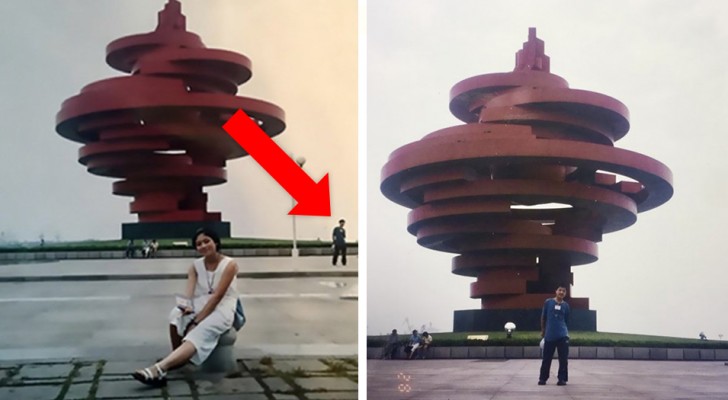 Advertisement
Mr. Ye and Ms. Xue have been together since 2011, when they met in the city where they still reside today, namely, Chengdu in China. Browsing through old photo albums, however, they made a very curious discovery!
Evidently, more than ten years before their meeting, their paths had coincidentally crossed in a city called Tsingtao, more than 994 miles (1,600 km) from their home.
Both had been there visiting and had gone to see the famous memorial square that commemorates the May Fourth Movement (a student protest march) that took place on May 4, 1919, in Tsingtao.
However, what one photo revealed left them speechless!
Advertisement
Being in the same picture but 10 years before meeting each other!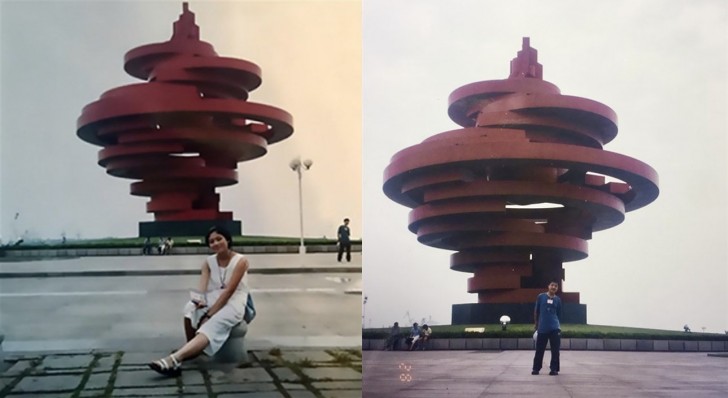 To realize the incredible fact was the husband, who was looking for a photo of his young wife to show to his daughters (two twins). The couple knew they had visited Tsingtao in the same period, but what the photo revealed was that they were in the same square at exactly the same moment, on 28 July 2000.
But the strange coincidences do not end there! In fact, Ms. Xue was in Tsingtao visiting her mother, who had recently recovered from an operation, while Mr. Ye had taken advantage of his mother's plane ticket because she could no longer travel due to an operation!
"When I saw the picture of my wife, I immediately felt a shiver down my spine! On the right side of the photo, I recognized my way of posing and the card of the tour operator I wore around my neck! So, I immediately went looking for some photos that had been taken of me on that trip, because I remembered having someone take a picture of me standing in that same square, only from another angle."
Now husband and wife plan to repeat the trip, bringing along with them their two twin daughters and taking a picture in that same spot, since now the square has become a special place for their family.
Advertisement