These 30 amusing photos show us the genius of ordinary people!
1 - When your arm is in a cast but you do not want to give up drinking beer ...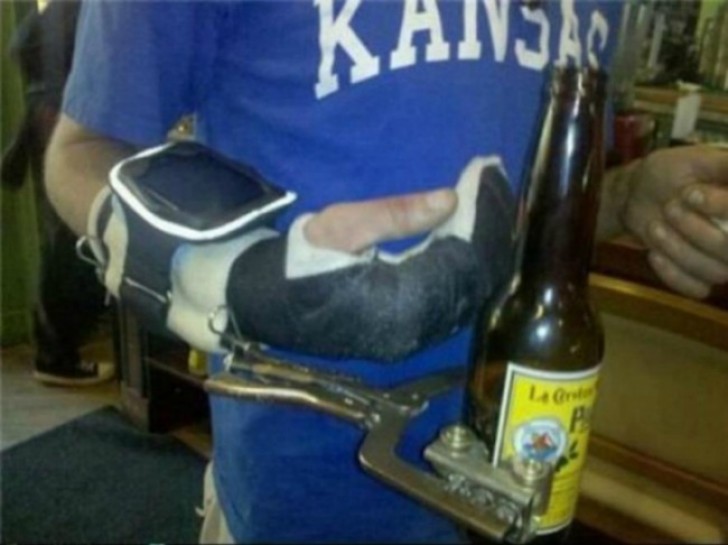 2 - The solution for a black sock with a hole on the big toe? Easy!
3 - How to eat cheese-flavored potato chips without getting the smell on your fingers?
4 - Here's how to keep a child calm when mom is away from home!
5 - Turning a coffee table into a desk? Done!
6 - When you have to fill your gas tank but it's really too cold outside ...
7 - The genius ... of laziness!
8 - Do-it-yourself safety shoes
9 - Do not disturb, thank you!
10 - The simplest solution is always the best
11 - A professional couch potato!
12 - When you want to reassure your mom that you're at home ...
13 - A bottle opener that comes when you call him ... In return he just wants a little pampering!
14 - Killing time at an airport
15 - This would be something that many people could want!
16 - Why close the blinds? A sweatshirt can produce the same effect!
17 - Who needs a selfie stick when you have a long-handled dustpan?
18 - If you forget your tie clip ... you can always invent one!
19 - Protecting yourself from the sun is important ... by any and all means!
20 - An alternative use for a roll of adhesive duct tape!
21 - Popping bubble wrap --- the easiest and most effective remedy against stress!
22 - No iron? Just use a saucepan with water ...
23 - When the desire for wine assails you but you only have a screwdriver ...
24 - No socks and a rainstorm is coming? Solution found!
25 - Maybe the smell will not be like sweet lavender, but the laundry will certainly get dried!
26 - When walking is not an option to consider ...
27 - A nap in a hammock sheltered from the scorching sun!
28 - Grease or oil stains on your clothes?... No, they have to be avoided at all costs!
29 - Happy dad, happy son!
30 - When your girlfriend asks you, "You are at home, aren't you?"