Here is how to develop your "Green thumb" :)
Gardening is beautiful if done with a real passion, respecting the environment and the wallet.
Yes, because gardening is a hobby that can prove to be very expensive if you end up having to buy something new all the time, without ever thinking of recycling!
Gardening is one of those activities that require fantasy and creativity! Therefore, to get good results you have to be ingenious, so here are some ideas that can be quite valuable!
1. Create a support for aromatic herbs from a grid (wine rack) for wine bottles.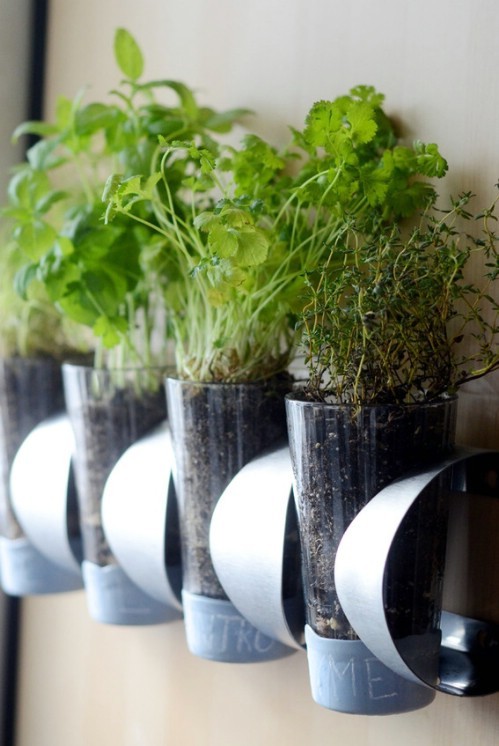 3. Strawberries are bigger and better if they grow downward! What about building a support using a recycled rain gutter structure?
3. Climbing Plants --- To cultivate beautiful climbing plants try creating a support using a bicycle wheel and some string!
4. Pumpkins are very sensitive to cold. Therefore, to make sure they thrive, first plant them in their soft plastic vases and then eliminate the vase after two weeks.
5. With leftover pieces of wood, you can create a lovely workbench --- very convenient for storing gardening tools and for taking care of smaller plants.
6. If you love horticulture you should have a small greenhouse! You can create one with plastic tubes spending very little money.
Here you can find the detailed tutorial to build the greenhouse you see in the photo!
7. Collect the water you use to rinse the vegetables in your garden in a bucket --- you can use it again for irrigation!
8. Create small greenhouses! The pyramid shape allows moisture to condense inside the structure and keeps the ground wet.
9. There is always regret when you have to cut down a tree but you can always use the trunk and enrich it with flowers to make it beautiful once again!