An amazing scrap car transformation! Check it out!
Have you ever wanted to spruce up your car but you abandoned the idea for fear of creating, even more, damage?
Certainly, the man that we are about to talk about never had this kind of problem! In fact, he lives in Lithuania and his job is to take old cars from landfills and turn them into luxury cars!
An impossible task? Take a look at the transformation of this Mercedes-Benz CLK . . . Absolutely astonishing!
When he took the car from the landfill it looked more or less like this.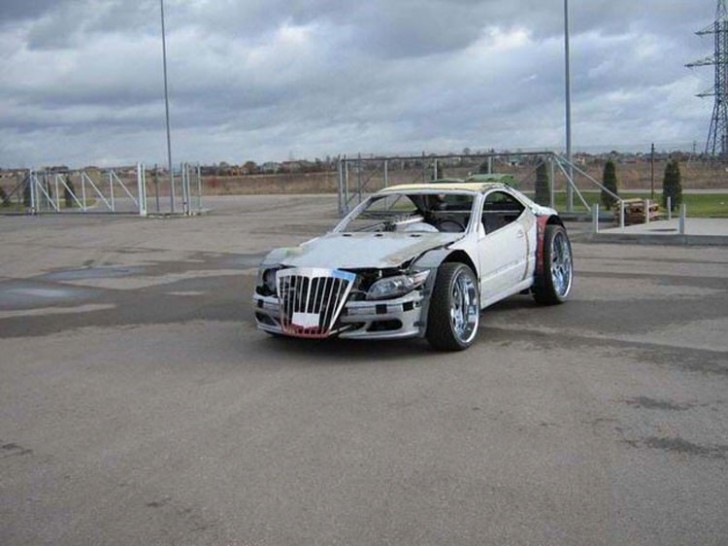 The first thing that the man did was to replace the old rear tires with two new 30-inch rear tires.
Next, he changed the front grille and at this point, the car looked like something from an animated film!
The secret of restyling is expanding foam, the same type that is used for home insulation.
By covering the car with expanding foam, the man was able to reshape the car at will.
With patience and care, he first allowed the expanding foam to dry and then he cut and remodeled the foam into the required shape.
After only a few layers of expanding foam, the car is already unrecognizable!
It is clear that the new car will have a much sportier appearance than the original Mercedes-Benz.
Here it is, now the external form can be said to be complete.
Next, the artist passed to the remodeling of the interior.
Obviously, the interior could be no less special than the external shape! Also, in this case, it was done with the help of expanding foam.
Now that the renovation has been completed, we can appreciate this man's skill! The interior has been upholstered in light-colored leather, the dashboard has also been personalized, and a Swarovski crystal adorns the gear shift knob!
Here it is! It is a real gem, is it not?
Now the large rear tires on the back of the car do not appear to be as disproportionate as they seemed at the beginning!
A scrap car that was in a landfill has been transformed into a luxury sports car.
This work was long, hard, and expensive . . . But also very profitable!
Who knows how much he is going to resale it for now?
This is the story of the long process of transforming and restyling a scrap car ... but in the end, all the hard work was certainly worth it!