Scenic Views of Rustic Park Mobile Homes
Would you be able to live in a mobile home? Surely, before responding, you will first picture in your mind, small spaces, fewer amenities, and the uncomfortable feeling of not living in a very pleasant environment.
Take a look at this group of four-wheeled wooden houses and obviously, you can see that they have nothing to do with what you probably imagined a few seconds ago! 

If the idea of living in such a house already appeals to you, well, maybe after seeing the interior of these mobile homes you will make the decision and say: "Yes, this is where I want to live!"
The exterior of Rustic River Park Home houses are like all the other mobile homes, but it is the interior decor that makes the difference.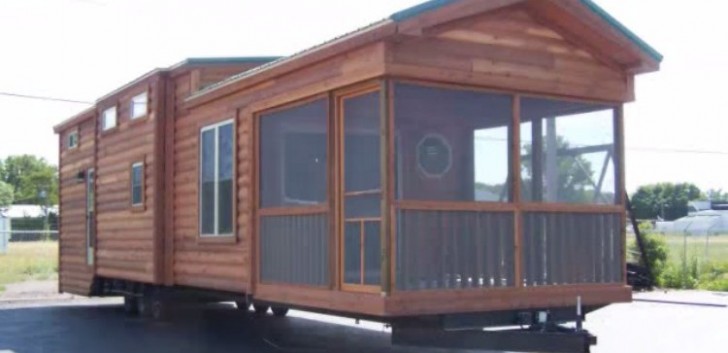 As soon as you pass through the entrance, you will forget that you are in a four-wheeled house! Inside all the furniture has a classic and rustic design.
Each mobile home can house a whole family, in fact, the spaces can accommodate up to six people. No cheap or harmful materials or unsightly furniture are used inside a Rustic River Park Home because the decor is chosen and guaranteed by the best designers!
Do you like the idea of moving your house to wherever you prefer without sacrificing the comforts of home? This line of mobile homes could be just what you are looking for!
The large windows that allow the natural light to enter and a reasoned subdivision of the living space create a cozy home atmosphere. Downstairs there are bedrooms furnished with bunk beds, while the master bedroom is upstairs to ensure privacy.
The mobile homes are 28.5 ft (13 m) long and 7.5 ft (3.5 m) in width, enough to provide a large and spacious home.
All this at a more than reasonable price! In fact, the prices range from 34,250 USD (29,000 EUR) if you want the unfurnished structure, up to 35,435 USD (30,000 EUR) for the fully furnished home that is complete and ready to roll!

We ask you again the initial question -- would you be able to live in a mobile home?

For any and all further information please visit the Rustic River Park Home official website!