Lazarus -- by name and by nature! :)
Lazarus had lived, abandoned and completely left to himself, in a barn amongst the dirt and his own excrement, without anyone to take care of him for six years.
The volunteers of an animal refugee organization who had mobilized themselves to rescue him had found themselves staring at a shapeless mass of dirty dog hair!
In fact, for a very long time, no one had thought about cutting his hair, but in spite of this, Lazarus had never lost his joyful expression . . .
Lazarus had spent the last six years of his life locked up in his terminally ill owner's barn.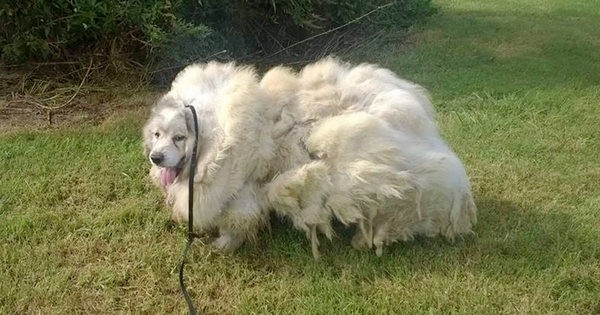 It was a neighbor who had called the animal refuge association because he was aware of the terrible conditions in which the dog was living and knew that someone had to take care of it immediately.
The hair on Lazarus's body weighed up to 15 kg (35 lbs) and when the dog was brought to the animal shelter it was terrified ...
However, when the dog realized that by cutting off the dirty and heavy hair, he would feel much better, he calmed down.
In fact, a young and agile dog was hiding under that mass of hair! Now, Lazarus is back .... he has returned to being the joyful dog he was six years ago.
Actually, he is currently in search of a new owner, but such a sweet dog will certainly soon find a family that is perfect for him!
The weight of 15 kg (35 lb) of hair had compromised Lazarus's posture, but with a little healthy rehabilitation, his walk will return to normal. Here is a video clip of Lazarus immediately after getting his heavy hair removed...