A swimming pool and a lawn in the same space?!
This unique project was born from a typical family dispute between a husband and wife!
With the renovation of their small home garden, they had to choose between a swimming pool to fight the grueling heat or a green lawn space where they could let their children play. The final decision? Both!

To satisfy in equal measure both sides, this man designed an underground swimming pool! The pool itself is can be covered by a movable layer of artificial grass when it is not being used. Here's how Gil, the inventor, proceeded in its construction. . .
1) Cleaning out the garden -- Gil removed all the plants that made the garden look depressing.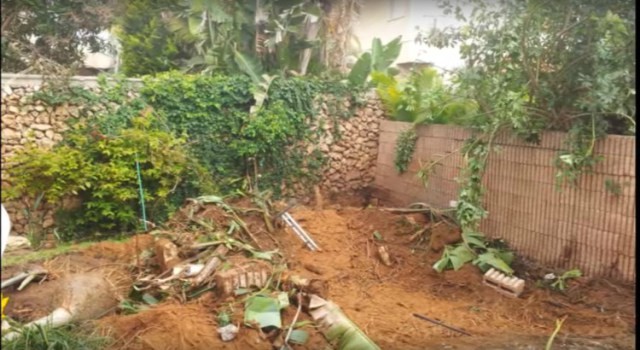 2) Excavation -- with the help of an excavator he dug the hole for the swimming pool.
3) Installation of the containment walls --- Gil used wooden beams that had been joined together and then inserted them into the terrain.
4) Construction of the steel grid --- the artificial grass covered panel was fitted onto the rails so that it could slide back and forth over the pool below.
5) Installation of the engine --- the movement of the artificial grass-covered panel is regulated by a remote control that turns on/off the engine.
6) Construction of the poolside area --- just as for the swimming pool panel cover, the side areas were covered with artificial grass where bathers can lie in the sun.
7) Laying the artificial grass --- two separate portions of artificial grass were cut. One was for the movable panel covering and the other was laid around the swimming pool area.
8) Filling the swimming pool --- After Gil had completed the structure he filled the pool with water and then enjoyed a refreshing dip at the end of his hard work!
Gil claims to have spent two and a half months completing the swimming pool, working only on weekends! The success of his idea was possible thanks to the digital planning that he had made prior to its construction.

Do you think Gil's idea is wonderful? Well, just wait until you see it in action!

Here is a video created by the same inventor in which he shows everything, step by step -- from the digital planning to the actual realization of his project.