A new chocolate braid recipe!
This is one of those winning recipes, where it is hard to go wrong with the measurements or the cooking methods!
Not to mention, the simplicity of the ingredients --- just a roll of puff pastry, a block of milk chocolate, one egg, and chopped hazelnuts if you wish.
The preparation is quite easy, but a trick will make the appearance of this puff pastry dessert very particular as if it were the result of a very laborious preparation when actually it only requires a few minutes.
Here is the recipe explained step by step!
1. Place the block of chocolate along the edge of one of the sides of the puff pastry.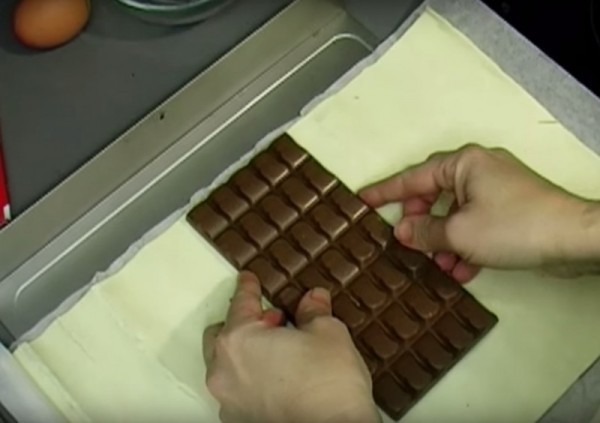 2. With a pizza cutter or a sharp knife, make oblique cuts to the sides of the block, as shown in the picture.
3. Make all the cuts for the entire length of the block, at a distance of a few centimeters from each other, creating strips of dough.
4. Take two strips corresponding to the sides of the chocolate and overlap them as if making a braid.
5. Do the same with all the strips and seal the edges by pressing with the blade of a knife.
6. Brush the surface with beaten egg.
7. Sprinkle with chopped hazelnuts, or even sugar if you prefer.
8. Bake at 200 ° C for 20-25 minutes. From the moment your kitchen starts to be invaded by the perfume of chocolate, you will feel like you cannot wait to taste this delicious dessert.
You have prepared a dessert of which you can be proud . . . In only a few minutes and with remarkable ease!
Here is the video of this tasty recipe, made specifically for chocolate lovers!