Discover how to make a Rustic Pizza Pie Star!
Even the most inexperienced in the kitchen can try their hand at the creation of rustic pizza pies. Their preparation is very simple, thanks also to the fact that the dough for puff pastry can be bought ready-made.
Today we will show you a way to make rustic pizza pies irresistible. . . Also for the eyes! We will prepare a sunflower rustic pizza pie with spinach and ricotta. Why a sunflower?  Take a look at the end result. . .
Procure the following ingredients for the dough:
500 g flour 00
90 ml extra virgin olive oil
200 ml of dry white wine
1 tablespoon salt
For the filling instead you need:
350 g boiled spinach
350 g fresh ricotta cheese
1 egg
100 g grated Parmesan
cheese salt and pepper
breadcrumbs
We start with the dough: Put all ingredients in a food processor or knead by hand using a large bowl.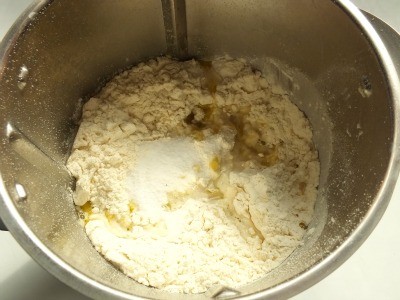 Knead until the dough is solid and homogeneous. Let it rest enclosed in plastic wrap, while you prepare the filling.
Squeeze the boiled spinach well to remove excess water. Cut it into small pieces with a knife then add the ricotta and stir.
Add the egg, Parmesan cheese, and a generous pinch of salt and pepper. Mix all the ingredients well.
Take the dough and divide it into two parts. Then with a rolling pin make two circles each with a diameter of about 30 cm.
Put one of the two circles on a piece of parchment paper and sprinkle breadcrumbs over it.
Arrange the filling as shown in the image.
Sprinkle with more Parmesan cheese.
Now cover this with the other circle of dough.
Seal the edges of the two circles by pressing with a fork.
At the center of the circle of dough place a small bowl and gently press. Prick the dough along the circumference of the bowl with a fork.
With a knife cut strips measuring a few centimeters wide.
Flip the ends of the strips as shown in the image.
Do the same for each strip you have cut. You will create a spectacular effect!
Put the rustic pizza pie in the oven preheated to 180 ° C for 30 minutes. The sunflower rustic pizza pie with spinach is ready to delight your palate and your eyes!
The variations of this recipe are countless! If you prefer a vegetable-based rustic pizza pie, you can choose the ones you like best! However, to give you another idea, we propose this alternative containing tomato, cheese, and ham which is equally delicious.
[In this case, a ready-made puff pastry dough is used that can be purchased in any supermarket.]