Children and elderly people are having fun together: here come senior-citizen playgrounds!
A well-organized town, whose administration takes good care of its citizens, can be identified by the quality of the services that it offers: clean public spaces, well-tended public gardens and parks, and play areas for children. Each age group is taken into account through initiatives that meet their individual needs and desires.
In Spain, some municipalities have done something really special for their senior citizens: they have organized and built a playground specially designed for them! What is its purpose? It is not only just for fun, it offers a lot more ...
Older people sit for endless hours on benches, reading a book or watching passersby. We think that they love to do this when perhaps they do it because there is not much else to do in their town or city.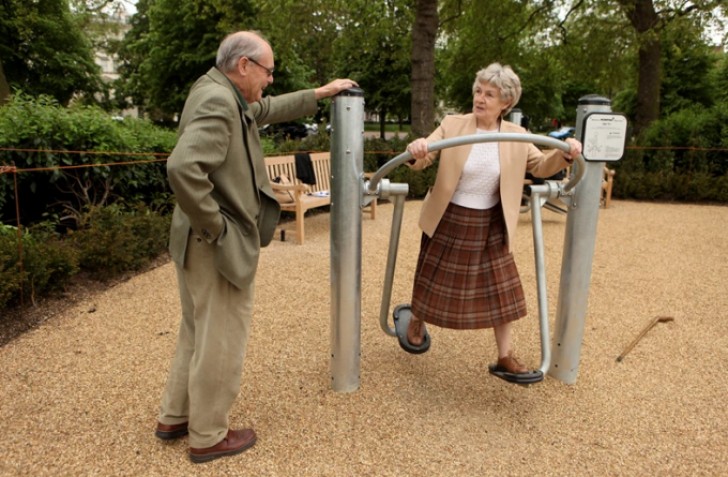 There is another thing they love to do: to have fun! Yes, because laughing together and having a good time are activities that have no age! In Spain, these senior-citizen playgrounds serve as places that allow the elderly to socialize with younger people, encourages them to do physical exercises safely, and to rediscover a reality that they have perhaps long abandoned.
All the exercise equipment is designed to encourage and support light exercise, to help the senior citizen reacquire mobility of their joints and to gently stretch arms and legs that are numb and stiff from inactivity.
Mrs. Francesca, 84 years old, admits she does not know how to stay inside the house. This senior-citizen playground near her house is the most beautiful thing that the city could do for elderly people like her.
Such parks exist not only in Spain but also in the United States and in London. The senior-citizen playground equipment is made by KaBOOM, a non-profit association, which generally creates children's playground games, but this time, they have decided to engage in something more original and innovative.
Intergenerational games! Yes, because having fun -- is not a question of age!