After years of wondering, this man found out why he didn't look like anyone in his family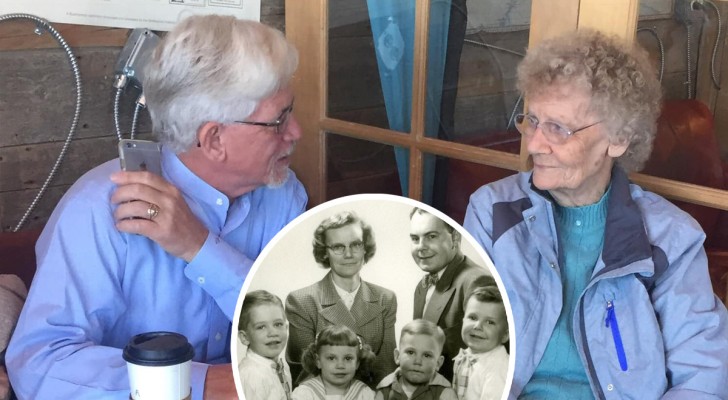 Advertisement
The bond with one's family stays with us throughout our lives: it creates a deep connection and a sense of belonging. Through the sharing of origins and genetic traits, it can give a sense of identity together with a network of shared affections, traditions and memories, which support us in moments of both joy and struggle.
But not everyone is lucky enough to be brought up by their biological family. And this is the case with the man at the center of this story:
via The Sun
Advertisement
Andy Perkins, a 73-year-old man from a rural town near Buffalo, USA, has lived much of his life feeling like an outsider within his own family. From a young age, he noticed how different he was to his other family members: he had blue eyes and light hair, while they had darker complexions and were taller. Furthermore, his outgoing personality contrasted with the reservedness of the other family members.
During his teenage years, Andy performed poorly in school, mainly due to severe attention deficit hyperactivity disorder (ADHD). During that time, he developed the belief that he was adopted, even though this idea was considered by everyone to be driven by teenage rebellion. Despite many hardships, Andy's childhood was happy overall thanks to the love and support of his parents, Shirley and Jim.
In 2015, Andy's daughter Candi Perkins Summers decided to research her family history. Through a DNA test performed on both parents, she discovered that her father was not biologically related to Mr and Mrs Perkins, but she did notice a genetic correlation with several people with the surname Robinson, residing in other countries of the United States. The following year, Andy was contacted by an alleged biological cousin who lived in the same area near Buffalo.
This event further confirmed Andy's suspicions that he had no biological ties to his parents. Subsequently, a more thorough search led to the discovery of the birth of a boy named Philip to Harold S. and Pauline McElwain Robinson - on the same day as Andy's birthday.
Advertisement
Andy realized that he had been swapped - intentionally or by accident - with Phillip as a new-born infant in the hospital. Philip died young but Andy was now convinced he was the Robinson's biological son. DNA tests eventually confirmed this fact.
Andy's biological mother, Pauline McElwain Robinson, had been a lab technician at a hospital and passed away in 2015. Andy had the opportunity to connect with his biological siblings, Brian, Sally, Lisa and Doug . Despite difference life experiences, they shared many similarities and welcomed each other with open arms.
Finding out the truth helped Andy find peace. In 2021, Andy and his daughter Candi revealed the news to Shirley Perkins, Andy's unsuspecting adoptive mother: the woman reacted quite well to the news. Today, Andy uses the surname Robinson-Perkins to reflect his biological identity and considers himself fortunate to have two wonderful and loving families.
His story is an example of how discovering one's biological roots can lead to a sense of identity and belonging.
Advertisement