Father goes to his 38-year-old daughter's office to spread salt on the walkway: he wanted to prevent her from slipping on the ice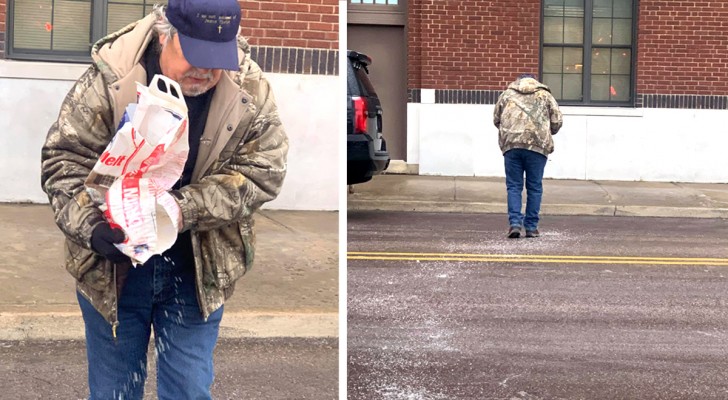 Advertisement
It is normal to believe that a father or mother will be willing to do anything for the good of their children. There are men and women, in fact, who never stop worrying about their children - not even when they are grown up, have their own families, their own lives and are completely independent.
The father who is the subject of this story knows something about this and he demonstrated his love for his daughter in an extraordinary way.
Advertisement
In a short post shared on her Facebook account, Elizabeth Bautista Boyd, a 38-year-old woman, highlighted the love her father has for her. Elizabeth wrote: "Guys, this is my dad. He drove up to my office and waited for me to arrive to make sure I got in safely. He sprinkled a trail of salt on the pathway so I wouldn't slip on the ice".
That day, the roads were covered with a layer of ice which could have caused a few problems. So, how could this father ensure his daughter did not have an ice-related accident? Elizabeth's father found a solution: he got up early, bought a bag of salt, went to his daughter's workplace and created safe passageway for her before she arrived.
Being protective of your children isn't such a rare thing, but Elizabeth had never expected such thoughtfulness to be shown towards her. And many of Elizabeth's followers felt the same. Indeed, some comments stated Elizabeth is extremely fortunate to have a father who is as loving as hers is.
Posting the story was Elizabeth's way of thanking her father for this tender act of love.
Has anyone ever done something this nice for you?