Man proposes to his girlfriend for 30 days without her noticing: the ending is hilarious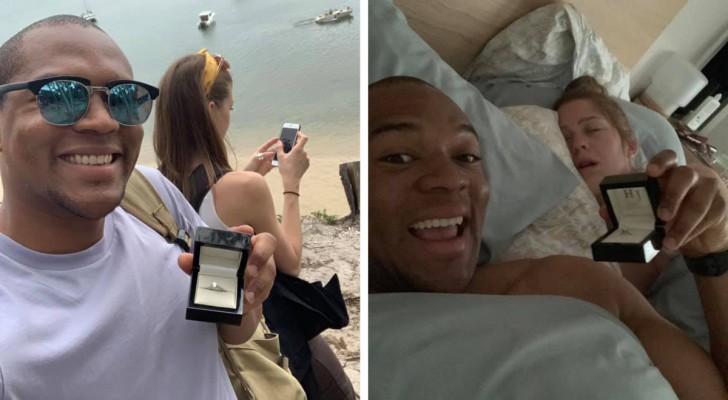 Advertisement
Most lovers - or at least the more romantic ones - dream of making a special marriage proposal: this event is often meant to come as a wonderful surprise for one's partner. There are those who, for example, choose a weekend in Paris to propose on top of the Eiffel Tower; others opt for a candlelit dinner; and then, there are those who organise something truly legendary.
Such is the case with Edi Okoro, 30, who found an epic way to propose to his girlfriend, Cally Read, 28. Are you curious? Let's find out what happened together:
via The Mirror
Advertisement
Instead of asking his girlfriend Cally to marry him in the traditional way, Edi took a series of selfies, over the period of 30 days, with the engagement ring in full view in the pictures.
There are photos of all kinds: while Cally is concentrating on sending a message on her cell phone; while she was asleep; lying in the sun; and many more. But Cally never noticed anything special or unusual in the photos.
Advertisement
"Some plan a flash mob, a fancy meal, or even arrange a marry me sign. I couldn't do this because "Edi doesn't plan" .... I'm a spontaneous improviser!", Edi stated in a Facebook post.
"That made the challenge even more difficult because Cally knows this and if I planned a vacation or a special meal, she would have known what I was about to do," he added.
Edi had to pay close attention not to get caught and - obviously - he didn't publish them on social networks until the day of the "real" proposal. He wasn't too worried about getting caught, however, as the photos were very subtle.
Finally, Edi decided it was time to reveal his true intentions. He went down on one knee and proposed: Cally, visibly moved, said yes.
Immediately after giving Cally the ring, Edi took one last selfie with his fiancée, showing her his other "hidden-in-plain-view" photos. Cally loved his initiative, as did many Facebook users.
Over just a few days, in fact, Edi's photo album got tens of thousands of views and flattering comments applauding Edi's tender, original idea. What do you think about this unusual proposal?
Advertisement