Teachers knock on the doors of students who are truant and bring them back to school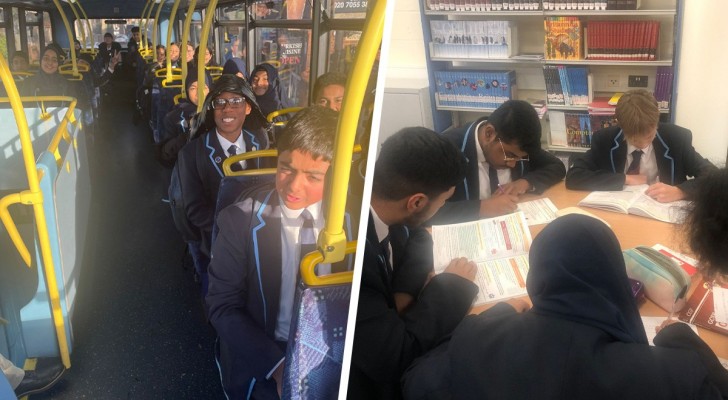 Advertisement
When kids are young, they tend to see school as a boring place, where they can't play and they have to pay attention to the teachers' long lessons. This is why very often children fake having stomach aches or strange ailments just to stay at home and watch cartoons, play video games or surf the internet.
Well, an English school is trying to counteract this trend by sending teachers to knock on the doors of their students' homes to ensure that they stop pretending to be sick and return to classes.
via DailyMail
Advertisement
Staff at the Cumberland Community School in east London make daily home visits to all students who do not have a good reason for not being in class. Every morning, after registering, the staff leaves on the school minibus and goes to the pupils' homes. This only happens if the child has a lot of absences, even if these absences are justified by the parents.
An example of the success of this method is the testimony from Mrs Rima Sommers, 51, of East Ham: "My son Jay, 13, refused to get out of bed until a teacher from the school arrived. I was stunned when the school told me his attendance was only about 57%. He missed at least seven Tuesdays in a row. I tried to send him to school, but he said he had a cold or some other ailment. Then he would stay in bed all day on the computer," Rima said. One day, Jay's teacher, Gardiner, showed up at Jay's house, and told him to go to school: "The school bus is outside, get ready, you're going to school."
Mrs. Sommers was pleasantly surprised by the school's approach: "My son hasn't been absent since that day," she commented. The school also checks whether families need support. Thanks to this system, Cumberland Community School has transformed itself from one of the worst performing schools, to one of the best in the country.
"The reality is that not attending school can have a negative impact on a child's education and life opportunities," commented Principal Ekhlas Rahman. "When children are out of school, they miss out on some of the learning critical to their future development. They fall behind, are increasingly likely to fail exams, and are therefore are less likely to take the next step in their education ".
What do you think of this rather original system?