Elderly woman sells flowers in the street: a man approaches and buys a single rose for $200 dollars
Advertisement
Are there such things as guardian angels? This is a question that some of us might have asked. In short, some believe in these heavenly being while others do not. What is certain, however, is the existence of special people who decide to act like guardian angels. And this is what the subject of this story has been doing for a long time.
A tireless benefactor, the young man loves to lend a hand to people who are in difficulty and his actions are filmed to preserve the moment of happiness felt by those who he helps.
Advertisement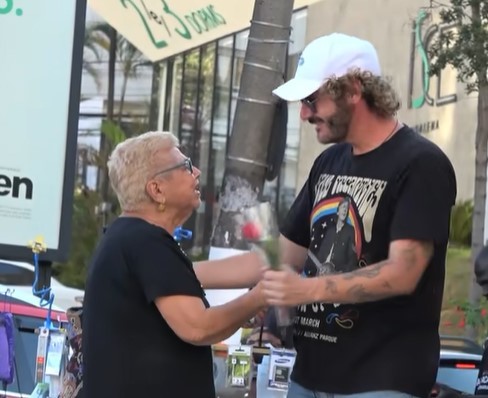 John Leitão is a Brazilian man whose "mission" is to help people - all of them strangers - and he shares their moments of joy on the web. Reaching out to others is his passion and he wouldn't change it for the world. Helping out others and cheering them up is a deep source of joy for John.
His most recent intervention involved approaching an elderly lady. Doña Irene, a street vendor selling flowers, was busy with her daily work when she met John. Aware that the woman need to earn some money, John decided to buy a single flower for her at a much elevated price.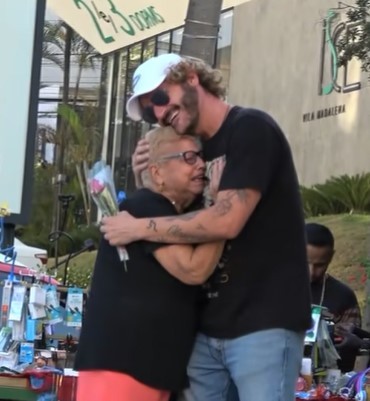 John bought a single rose for $200 dollars and this act made the elderly woman burst into tears of joy. Speechless, Irene embraced the John and expressed her great affection and gratitude to him. "She didn't expect to earn $200 for a single rose. That's why she cried for joy," John said. The video, published on the Brazilian's Youtube channel, soon went viral.
There are many who thanked John for having decided to dedicate his life to helping others who are less fortunate in life. It's special people like John who make the world a better place and restore's our faith in humanity.
Do you agree?