A group of 14 go out to dinner: the bill is more than 161,000 euros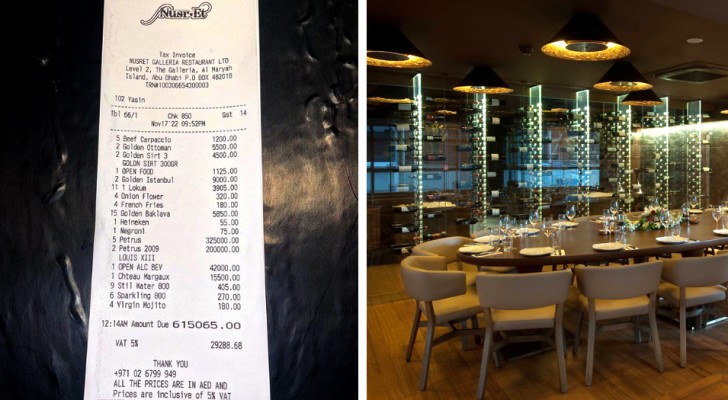 Advertisement
We all love to treat ourselves to an evening out at a restaurant from time to time. Whether it's for a special occasion or simply to go out - perhaps, with others -  it doesn't matter. What is important is to feel good and eat something divine. Nowadays, there are a lot of restaurants to choose from, with menus and prices that vary considerably. There are, in fact, some very expensive establishments which it can cost a leg and an arm to dine at.
This is the story of 14 diners who went to a certain restaurant one evening. They spared no expense - in every sense of the word.
via Daily Mail
Advertisement
This story took place in Abu Dhabi, UAE, where a group of 14 people - who chose to remain anonymous - went to a famous restaurant: the Nusr-Et Steakhouse, run by chef Salt Bae (whose real name is Nusret Gökçe). Famous for his steaks wrapped in gold leaf, it was he who posted a photo of the bill that these customers had to pay to his Instagram account. The photo shows the bill's total as being 615,065 dirhams, approximately 161,000 euros.
This is a mind-boggling amount to spend on a single dinner at a restaurant. From what can be seen on the bill, the diners had various meat dishes, some of which served in gold leaf. They also consumed several bottles of wine, the most expensive being 85,000 euros (and accompanied with a number of smaller courses and bottles of water).
Advertisement
The chef, perhaps because it was the highest bill ever charged by his restaurant, shared the information on social media. But his followers were not at all happy about this.
Numerous comments were posted which harshly criticized the chef for not realizing how offensive his action had been.
"This is not normal. It's an outrageous bill," said one follower; "Seeing a bill like this and knowing that this money could feed an entire city saddens me a lot," said another follower. "You have lost my respect. How do you charge this much for normal food? And I'm sure you won't donate any of this money to charities," said one follower. In short, many followers were offended by the sheer indulgent opulance of the dinner.
Should Chef Salt Bae have thought twice before posting this photo? Was he really in the wrong? What do you think about this?
Advertisement