90% of this man's body is tattooed: "At work I had to hide away to avoid being seen by the visiting bosses"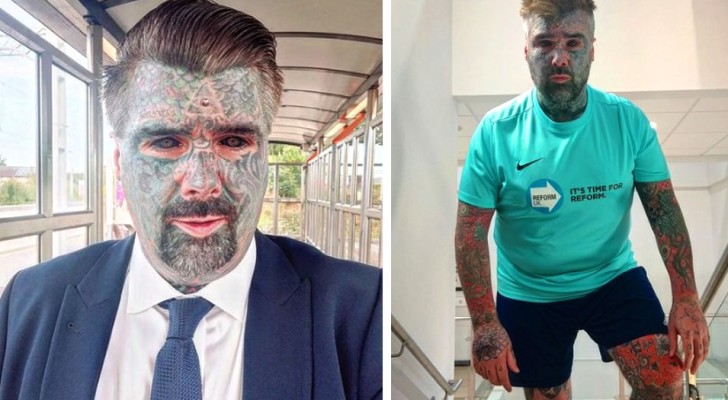 Advertisement
Many people nowadays love tattoos and have got one or more on their bodies. There are those who choose a small tattoo in memory of a particular event linked to their life or a special person. Then there are those who, on the contrary, decide to completely tattoo their entire bodies, not leaving even one inch of their skin untouched. This is the case of the man we want to tell you about here.
Lover of tattoos, the subject of the story has spent around 27,000 euros on his tattoos, but, unfortunately, his passion has turned out to be a negative at work. Let's find out why:
via The Sun
Advertisement
Matthew Whelan is a 42-year-old British man who became famous for his work mishaps resulting from his tattooed body. The man, irrepressibly passionate about tattoos on the body, has reached a personal record: he has covered 90% of his skin with ink. Unfortunately for him, his passion has turned into a problem.
Many people, especially in the workplace, expect a certain etiquette to be respected and this is not just about clothing. There are some companies, in fact, that consider it inappropriate to have "overly visible", heaviily tattooed employees. So, for people like Matthew, this can be a problem.
Advertisement
Matthew stated: "My appearance has limited me more than once. People consider you different and put you in a corner. It is true that companies have a code of behavior and respect for rules, but I believed that these concerned only clothes. In the past I suffered real discrimination because of my tattoos".
The man worked in a call center when a visit from managers was expected one day. Suddenly, according to his account, his superiors moved Matthew to the end of the building. They absolutely did not want their bosses to see the tattooed employee and basically hid him away. For Matthew, this was an embarrassing incident.
Despite the risk of not finding a job, Matthew has no intention of changing his appearance.
What do you think about this topic? Should Matthew stick to his guns, or should he try to change?
Advertisement