Woman takes a child's future to heart and promises him: "if you study, I'll take care of giving you food every day"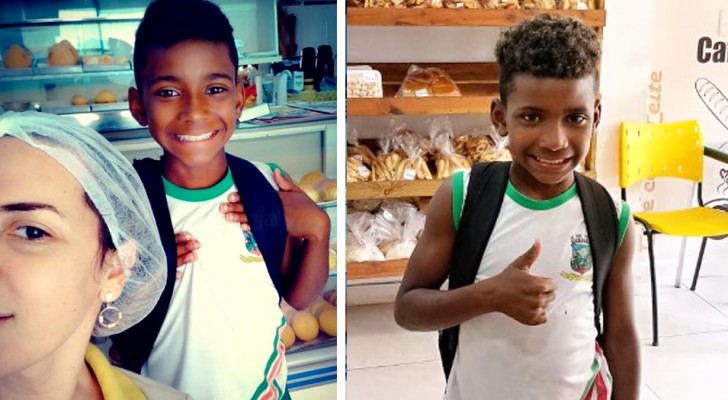 Nowadays it is difficult to find people who will reach out to help others in difficulty. But this is one thing that the subject of this story did: Rosangela Amaral who, having learned of the situation of a less fortunate child, decided to take care of him by ensuring him a meal every day - as long as he did not give up school.
To get extra help, the woman made her initiative public and involved those who wanted to to help her out. Let's find out more about this story:
via El Comodorense
Advertisement
Cauã, is the name of the child Rosangela grew fond of and took under her protective wing.Cauã met the woman when he was only 10 years old and his life changed forever. Born into a poor family, the little boy was in danger of being left without education and without a good future because, as happens to many, he would be forced to get a job. True, his parents needed him to work, but in doing so what would his future life be like? This is the question that Rosangela asked herself when she met Cauã - back in 2017 - and she decided to help him.
In a post, the woman introduced the child with these words: "My little friend went back to school because we made an agreement: if he studies, I will take care of giving him food. Every day, he comes to me, he shows me his homework and I gave him some sandwiches, as promised. I believe in him and I believe in a better future. "
There are many children who should have a brighter tomorrow, but who are forced to become adults ahead of time to help their families. Cauã, however, met Rosangela and took another path.
After her first post, Rosangela later also posted an update on their story and some photos. In the post, the woman drew attention to the reality of many families and children who are prevented from getting a good education because they have to enter the workplace as children. This mother has invited whoever has the opportunity to do the same as she has to help those less fortunate.
Advertisement
Let's take an example from Rosangela's kindness and not look the other way: children are the future of the world and they must be given the opportunity to live a good and peaceful life.