New driver writes a message to fellow motorists: "Please be patient, I'm learning"
In large cities and metropolises, road traffic is often chaotic. It is not for nothing that motorists must drive with great concentration and attention, just as pedestrians must be cautious when crossing congested roads. A novice driver can make more experienced drivers lose their patience, who are always in a hurry and frustrated by constant traffic jams. For this reason, a young man has found an ingenious way to avoid unpleasant incidents.
Let's find out together what he did: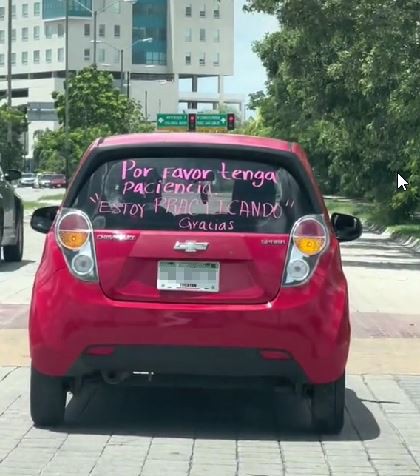 Tali Escobar, a TikTok influencer from Merida, Mexico, captured the moment when she was driving behind a novice motorist, who had placed a message in the rear window of his vehicle to ask other drivers for a little patience for his slower and more uncertain pace, because he is learning to drive.
"Please be patient. I'm practicing. Thank you," the sign reads in the back of the car. The influencer felt that this message from the new driver could spare everyone a lot of hassle, so she didn't hesitate to whip out her phone, record the message and upload it to her TikTok account (where it went viral almost immediately).
Most reader appreciated the cute message the man had placed in the rear window of his car and took the opportunity to ask for other drivers to be patient. Someone even joked about it, writing: "I recommend an additional sentence:" If you honk or insult me, ​​I get nervous, I will cry and we will all be late". I think it could be even more effective!".
"I once read a similar sign on a car in front of me. I preferred to change lanes and queue behind a tractor!" wrote a young man ironically. Still others have stressed how this type of message can prove to be counterproductive: some motorists, in fact, could get more frustrated. However, watching this video, many people remembered their first driving experiences and expressed solidarity with the novice driver.
What do you think? Could this be a useful solution?