She is 19 and he is 42: they love each other but web users have criticized them: "it's ridiculous, he could be your father"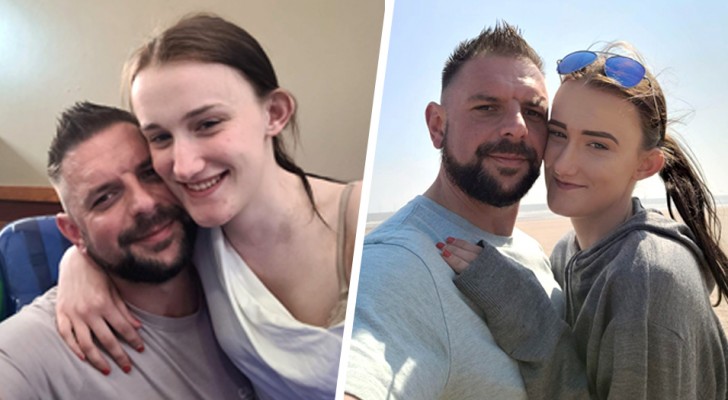 Is there really a right age to fall in love? Or it would be more correct to say: what is the maximum number of years difference that there should be between two people who want to be together? This is a very difficult question to which everyone has their own answer, depending on their experiences. There are some, however, who are unable to accept that there are people who voluntarily decide to be with a much older person. Whether it is a man or a woman, it does not matter - what these critics cannot tolerate is the idea itself, which is why, when they have the opportunity, they feel entitled to attack relationships like this where there is a large age gap between a couple.
A young woman who decided to share photos of her love story with a man much older than she is on the web, also became a target for critics. Here is her story:
via Uk Daily
Advertisement
Courtney Louise McVay is a 19-year-old South Yorkshire woman who has made headlines all over the web for sharing photos of her romantic relationship. So, what is it that has caused so much of a sensation? Well, it's the age difference between herself and her boyfriend: 23 years. He is 42 years old - much older than Courtney - but this does not seem to have posed an obstacle to this couple from falling in love.
The young woman shared her most important insight: "We love each other and age doesn't matter. I think it's just a number. What matters are feelings and the relationship I have with my man". Her words should not be a reason to attack her, but this was not the case - and these attacks have really shocked young Courtney.
Many critics lashed out at the couple, leaving cruel comments about their photos and their relationship.
"It's just wrong"; "Do you realize he was already 23 when you were born?"; "If a man is so old that he can be your father, then there is something wrong" - and many other similar messages that state that the age difference between the couple is "too big" to be healthy.
Advertisement
Tired of all these critics, Courtney decided to respond by posting a clip on TkTok with which she claims to be deeply in love with her significantly older boyfriend. She states that she has no problem with her father, so why would she have an issue with being with an older man? She never thought that at the age of 20, she would fall in love with a much older person, but this has indeed happened and she is very happy in her relationship.
Fortunately, there were also those who commented positively on her story and advised her to keep following her heart. What do you think about this story?