A bridesmaid dress, chosen by the groom, is not appropriate for the bride's friend
When a friend announces their wedding, we are quick to celebrate with them on this special day. And if we are chosen as a witness or a bridesmaid, everything becomes even more wonderful and exciting. So, it is too bad that the unexpected is always around the corner and there is always the possibility that something can go wrong.
This is what happened to the woman we want to tell you about in this story. This young bridesmaid had to deal with a dress that was chosen for her and which was definitely not appropriate for her physique. Read on to find out more: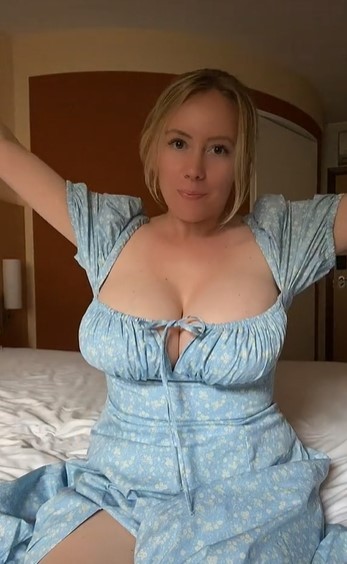 This young English woman, known on TikTok by the username pilyplum, said she was chosen as a bridesmaid for the wedding of one of her dear friends. It was too bad then, that the bride left the choice of dresses for the bridesmaids to her future husband.
The groom opted to choose low-cut, light blue dresses for the bridesmaids, but appears not to have considered the physiques of the women involved - or at least, it seemed to be so for the subject of the video she made. In the clip, she shows how much her dress highlights her clevage. Going viral, the video has garnered 2 million views and many have commented on it.
Some claimed that the groom did not realize the issue, while others thought that he had chosen these dresses on purpose. "With all this clevage on show, you risk overshadowing the bride"; "If you don't feel comfortable, you might consider skipping out on this wedding"; "You could try to put a little something under the dress so that it covers up the neckline a little more" - these are all comments and suggestions that the woman tried to follow, but which failed to solve the problem.
In a follow-up video, the woman tried picking out some other dresses, but none of them were suitable. So, what could this woman do? Pointing out the problem to the bride and asking for a new dress (or trying to get permission to wear some other dress) does not seem to be viable solutions which are open to this well-endowed woman.
What is your opinion about this conundrum? Have you ever found yourself in a similar situation?