Son grows his hair for 2 years and makes a wig for his mom - she lost her hair during cancer treatment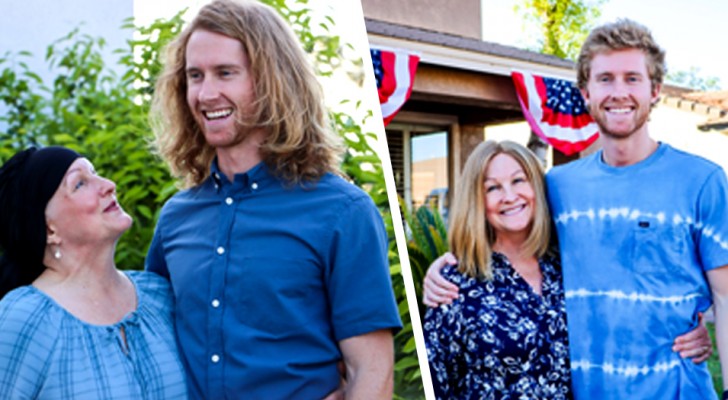 Advertisement
The family is a safe place, a refuge, a nucleus where you can feel good, protected and pampered. The family is a group of people who are willing to reach out to each other and act for the good of its members. A family is the most important thing in life because, whatever happens, a mother, father or children are always at one's side, ready to support and help one through times of great difficulty.
The Shahas' family is just like this. Originally from Arizona, they have become famous on the web for two family members in particular: mother Melanie and son Matt. The son, during a very difficult time for his mother, made a wonderful gesture and helped his mother to overcome it. Let's find out together what he did.
via People
Advertisement
It was 2003 when Ms. Melanie Shaha, mother of six children, was first diagnosed with a benign brain tumor. Although there was no imminent danger and the situation was under control, the woman had to undergo several therapies to combat this disease. But then the cancer came back two more times, and she was forced to undergo radiation therapy sessions.
We know how the body can be affected by external factors and react dramatically - especially to radiation therapy. For example, it often happens that those who have to follow such treatments, experience sudden hair loss which, once the treatment is finished, may or may not grow back. In the case of Ms. Melanie, unfortunately, her hair was struggling to recover, and this is when her 27-year-old son intervened.
Almost meaning it as a joke, young Matt, during a regular family lunch, wondered: "What if I let my hair grow so we can make Mom a nice wig?". This was an idea that seemed almost ridiculous, but it soon became a reality. Even though his mother didn't agree with his actions, Matt decided to take this path and let his hair grow down to his shoulders.
Once he reached the right length (after two and a half years), the young man got the hair cut and sent it to Compassionate Creations in Newport Beach, California. Here, industry experts hand-made a custom wig for Ms Melanie at a cost of $ 2,000 dollars. This was money well spent if we take a look at the photos of the woman in which she is seen smiling and happy to wear a wig made of natural hair and that does not look fake at all.
Advertisement
This wonderful gesture that Matt made, went viral on the web and touched many users, especially his mother: "It was a beautiful gift," said the woman. She continued: "I had lost hair and eyebrows and I needed to feel normal again. So I accepted the wig and I now feel beautiful." This was a clear demonstration of the love by a child for a parent that could not be bigger, more beautiful, heartfelt and profound.
We applaud young Matt and wish all our best to his beautiful mother.