Youngster is bullied because he always wears the same clothes: later he is surprised by two schoolmates
Being at school, particularly when one goes to high school, can be one of the best experiences when one is young, but it can also be one of the worst times. Why is this? Unfortunately, it is in precisely this adolescent phase, that many boys and girls become the targets of bullies, mocked and teased by their peers. For this reason, going to school - or going to any other place intended for young people - can become complicated and traumatic.
For the youngster we want to tell you about in this article, it has almost always been like this - at least until he has met two special people. Here is the story of these three boys.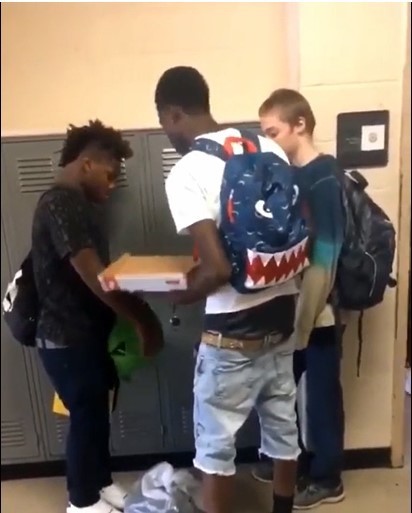 Michael Todd is a young man who had just started attending MLK College Preparatory School in Memphis, when he became the target of bullying. The boy was targeted because he always wore the same clothes. He was growing up fast (physically) and his mother, due to economic hardships, could not always buy him new clothes. This meant that he had to make do as best he could, and always went round wearing the same clothes for long periods. We know how bullies know how to identify the weaknesses in a person and how like to be the center of attention, in search of approval and notoriety. And this case is exactly what this story is about.
Fortunately, however, fate can also give us wonderful, unexpected surprises and change the course of how things are turning out. This is what happened for Todd, thanks to the turn-around of two schoolmates, Kristopher Graham and Antwan Garrett, who turned from bullies into friends. The two young boys, after taking part in the bullying of Micheal, stopped to think about their actions, realized they had made a big mistake, and tried to remedy the situation.
This is how Kristopher, and later Antwan, organized a surprise for what would later become a great friend of theirs. The two young men put together as many clothes as possible - sweaters, pants, T-shirts, and more (and including new shoes) and gifted them all to Todd. Amazed by so much kindness, the boy could not believe his eyes. "I have been bullied forever," he said in an interview. "I was delighted to receive this gift. Kristopher and Antwan are wonderful and the best friends I have in my life." He words came from the joy in having experienced, for the first time, a kind gesture made towards him and not just the usual bullying and teasing.
This was a touching moment that has gone viral on web, and has received a lot of praise from many web users. We hope with all our hearts that this will be an example to many teenagers who bully others. Let's take an example from these youngsters: they made a mistake, but in the end, they understood the error of their ways and found a concrete way to apologize.
Great job guys!