Famous Atlético Madrid footballer spends his holiday in the humble home of his parents (+ VIDEO)
Sometimes, when you embark on a career path and achieve success, it can be that you forget your origins or, in any event, you let them fade away. Whatever the reason, it is not nice to be separated from one's loved ones and from one's birthplace. And this is why, whenever possible, one should try to return to "one's roots" and spend some time surrounded by loved ones.
This is what happened to a very famous footballer, Matheus Cunha, who took a few days off to spend in the tranquility of his mother's house. In this story, we will tell you about the time Matheus spent with his family and which was shared on social media networks.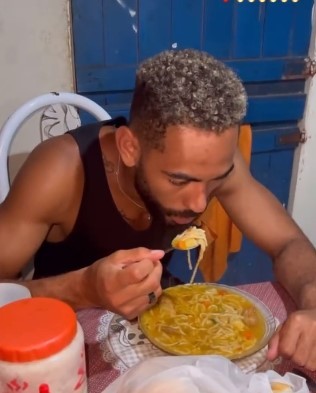 Matheus Cunha is 23 years old and one of the youngest stars of Atlético Madrid, which is amongst the best soccer / football teams in the world. In addition to the fame that has been showered on him for his prowess on the football field, this athletic star has gone viral on social media networks for sharing a video in which he is seen eating a plate of noodle at his parents' house. Nothing much strange about this, you may be thinking. But that would be true if it weren't for the fact that his mother and father, far from being in the spotlight that their son is used to, live in a very humble home in Brazil.
This was a return to his true origins for the top soccer player and the best way he could find to get away for a while from all the luxury, the press conferences and the other trappings of success that define his everyday life. Giving up on taking an expensive, exotic holiday was his way of spending a few pleasant days in the company of his beloved family.
Matheus was shown in a video while he is eating a juicy plate of noodles - a type of "spaghetti" that his mother prepared for him with love. Before sitting down at the table, however, the soccer player is also seen standing next to the kitchen sink, busy washing the dishes.
The video, which quickly made the rounds on the web, has garnered a very high number of views, shares and positive comments praising the 23-year-old. Already appreciated for his soccer skills, he has become even more famous and popular thanks to the humility he has shown. This is a gesture makes us reflect on how important it is not to let oneself be carried away by success and money, and to make sure that one's roots remain firm in one's soul and a point of reference to hold on to. Of course, Matheus will have many opportunities to go to trendy clubs and socialize with people from the jet set. But it is nice to think that he has made the time and given himself the opportunity to return to his roots and spend a few moments surrounded by his loved ones
Don't you think that this is very noble thing that Matheus did?