9 firefighters work at the same barracks and become fathers at the same time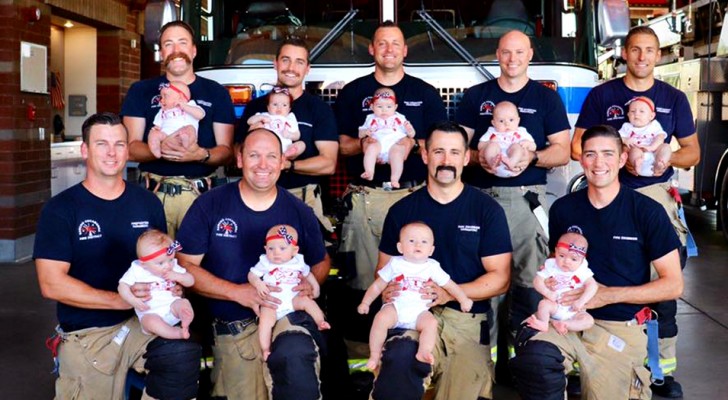 Advertisement
The birth of a child is always an important moment in a couple's life and fills the new parents, their relatives and friends with joy and happiness. Usually, those directly involved in the event, go public and love sharing their happiness. And if someone close to the family finds themselves in the same situation at the same time, everything becomes much more wonderful.
And this is the situation that a group of co-workers found themselves in. This was a group of firefighters who, whilst talking about their lives, discovered that they were all expecting to have a baby at the same time. The most incredible thing is that this coincidence happened not to two, nor even three or four of them, but for as many as 9 of the firefighters. Let's find out about the details of this incredible story:
Advertisement
Employed by the same Rancho Cucamonga firefighting barracks in California, USA, the 9 firefighters discovered, over time, that they were all in the same condition: their companions were pregnant and all of them were pregnant at the same time.
"I remember when we discovered this fact and it was all very strange," says one of the firefighters. He continued: "At the beginning, there were 6 of us waiting for a baby. Later, we realized we were wrong when we found out there was also a seventh; and then the eighth; and finally a ninth - we could not believe it. It was impossible." But, apparently, whilst unlikely, it was definitely not impossible.
Born over a period of just 4 months and all close in time to each other, the nine babies quickly became famous on the web. Fascinated by what had happened and even a little amused, the members of the department shared a post on Facebook to celebrate the occasion.
"Say hello to the new, little members of the Rancho Cucamonga Fire family!" reads the post in which the little ones are introduced. The post continues: "Nine babies were born to us between March and July and we couldn't miss the opportunity to immortalize this special moment. We are thrilled to see our family of firefighters continue to grow. "
Advertisement
Such events always create a lot of happiness and amazement. It is not at all common, in fact, for such coincidences to occur. You may have heard of a pair of sisters or brothers expecting at the same time, but find out about 9 colleagues who will become parents within a few months, is truly incredible. But it is true, and the images they posted bear witness to this. To document everything in the best way possible, the children were also photographed in tiny firefighter jumpsuits and laying on their fathers' fire jackets.
This is a rare thing, which obviously brought the families and wives of the brigade closer together. They found themselves sharing their experiences, giving each other advice and also supporting each other. It was a beautiful event and the many emotions all shared together. We are sure these parents cannot wait to tell their children about the story when they are older.
We can only look at them with tenderness and wish the little ones and their families a bright future and lots of happiness.