Elderly woman turns 98 and finds her daughter who was given up for adoption 80 years earlier: the best gift possible
The roads that life leads us down are truly infinite and the unpredictability of events never ceases to amaze us: perhaps this is also the beauty of life, don't you think? Gerda Cole is a 98-year-old granny who has seen many things in her life and who for her birthday received perhaps the most incredible gift: meeting her daughter for the first time - a daughter given up for adoption 80 years earlier! Gerda's story is troubled, but certainly this granny couldn't believe her eyes when she had the chance to see her daughter again - now an adult. It was an incredible gift for both of them.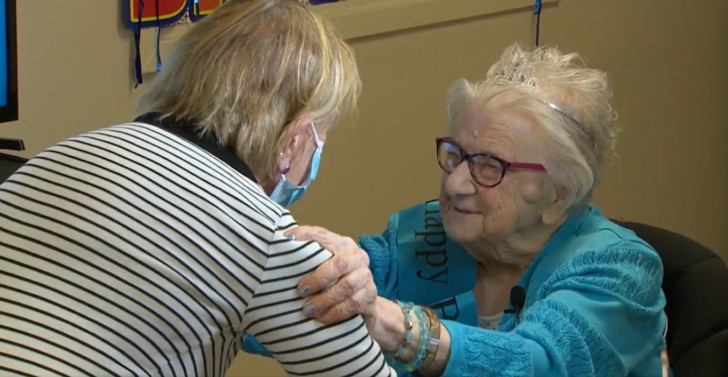 Gerda Cole, a woman of Jewish origin, was forced to leave Austria in the distant past, in 1939, at the outbreak of the Second World War, and to settle in England. She was only 18 years old when she became pregnant with her daughter, but her financial resources were so limited that the only solution she could find to give a dignified future to her daughter, was to give her up for adoption. Gerda continued to live her life to the fullest, traveling, studying and then moving to Canada, where she settled permanently. She never thought she would see her daughter again - also because she had been forbidden to make contact with her.
As the years went by, however, Gerda's daughter, Sonya Grist, began to ask questions about her biological mother as she knew next to nothing about her. After many years, Sonya was convinced that her mother was long dead, but her son Stephen, was able to track her down and disprove this belief.
Gerda Cole, a 98-year-old Ontario woman, says she received the best Mother's Day present she could ever imagine after...

Pubblicato da Canada Info su Lunedì 9 maggio 2022
"I found out that Gerda, my mother's biological mother, has a stepson and so I contacted him on Facebook. I told him: 'I am missing one last piece of information. I need Gerda's death certificate ... could you help me find it? "And he replied:" You won't find her death certificate because she is still alive and living in a nursing home in Canada. "My God! The mother of my mother is still alive - she is 97 years old and she turns 98 next Saturday! " Stephen said.
Sonya and her son Stephen went to visit Gerda on the occasion of her 98th birthday, and emotions were high. Even though they had lived two separate lives, their bond as mother and daughter never faded. Eighty years later, it was exciting and moving to finally see them hug each other.
The message that this almost centennial grandmother wanted to share with everyone, after this wonderful surprise, was: "Don't wait until tomorrow or it will be too late. If you want to live, live now, not tomorrow or the day after tomorrow!".