On graduation day he takes off his formal clothes and asks his mother to wear them: "This milestone is yours too"
A parent is often willing to do anything to give a healthy and dignified life to their child - and at the cost of depriving themselves of many things and making many sacrifices. And the love that a parent has for their child is certainly reciprocated over time, given that more and more frequently, young people genuinely "thank" their moms and dads for everything they did for them. It was the case for Antonio Chavez, a young Mexican who graduated in the United States, and who dedicated his achievement to his mother. In a video, which went viral on TikTok, the young man had his mother wear the toga and the mortar board he had used to celebrate his graduation. This was an exciting and very meaningful scene.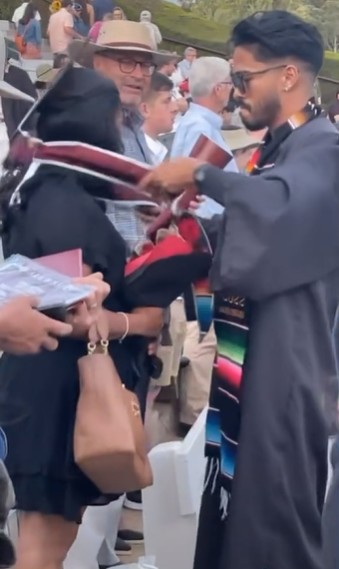 Mothers are often the ones who are closest to their children, supporting them even in their adulthood and through any type of situation. Of course, they know that their children will sooner or later become independent adults, but that doesn't mean they can't continue to be supportive of them. Antonio Chavez knows that his mother made great sacrifices to allow him to study and for this, he will always be grateful to her: "Together we started with nothing and since I was a child, I promised myself that I would try to give you everything you need," said the young man to his mother on his graduation day, "Let this just be proof that you've never let me down. Mom, I love you."
What better day to reciprocate, in a certain sense, all affection and support he had received than on the day of his graduation? This was an important milestone, which marked the end of his studies and acknowledged a well deserved success ... a shared success.
Antonio's gesture was very moving: the young man approached his mother in the middle of the celebration and took off his ceremonial clothes and hat and asked her to wear them. With this gesture, he wanted to show that his achievement was not only his alone, but was also that of his mother.
"Happy Mother's Graduation Day," wrote Antonio in a post, "How many times I have imagined how beautiful you too would look in a cap and toga, holding a degree. You always told me I was doing this for myself, but it's always been for you ".
It is undeniable that this young man has incredible love for his mother and that he is grateful to her for all of her love and support in the past.