Couple buy a bus for just £ 2500 ($ 3,300) and turn it into a two-story house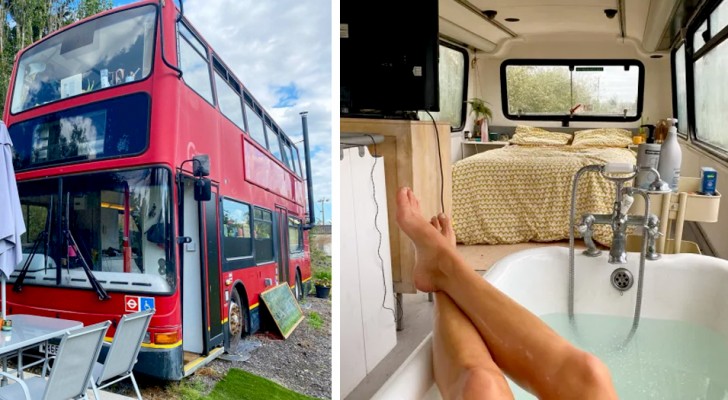 Advertisement
In the historical time in which the world of work is increasingly complex and difficult for the new generation to conquer and in which buying a home seems a distant dream, many young couples have to resort to taking on the constraints and burden of a mortgage in order to fulfill their dream of living under a roof that they can call their own. However, there are much more ingenious people like Charlie and Luke, who have done everything to live a satisfying, independent life as a couple, putting aside savings and, above all, avoiding the nightmare of having a mortgage (and all that a mortgage entails)...
via Metro UK
Advertisement
Meet Charlie McVicar and Luke Walker, a British couple who bought a decommissioned double-decker bus for just £ 2,500 pounds ($ 3,300 dollars) in 2017 and literally transformed into a dream home the following year. Luke said: "We knew that renting or having a mortgage would cripple us and we would not have as much flexibility as we wanted. So, we opted for the purchase of a double-decker bus that we would turn into a house. The transformation process has been challenging at times, but we have been very fortunate to have people like our families helping us. "
Advertisement
Obviously, Charlie and Luke got a hand from friends and relatives, while experts and professionals took on the "heavier" and more complex jobs such as those involving plumbing, electricity and all woodworking tasks. Now, the double-decker bus, which cost just £ 2500 pounds ($ 3,300 dollars) has become a perfect home for two. On the lower floor there is a kitchen that stretches in length along one side, while on the other, there is a perfectly comfortable office space. At the back of the bus, there is a large living room with a wood stove and a chest for storing collectible vinyl records.
Upstairs, there is a bedroom, with breathtaking views of the English Essex countryside, and a corner bathroom complete with bathtub and walk-in closet. The couple are thrilled with the work they've done and the house they've managed to make out of the disused bus: "We absolutely love living on our double-decker bus and honestly wouldn't change it for the world. Of course there are some sometimes downsides to living here, like keeping the heat inside the bus, and in the winter it can get very cold at times. Similarly, in the summer it can become pretty much like a greenhouse!" said Charlie.
And just think about the fact that to park their bus-house on the land owned by the woman's father in the heart of the Essex countryside, the couple paid only £ 15 pounds ($ 20 dollars); an incredible saving which was obviously added to the purchase costs of the old double decker bus and to all those expenses for the renovation - a very minor expense and with the benefit of not having to deal with a mortgage.
See below to view photos of the other areas of the bus used as a home by Luke and Charlie:
Advertisement
If you want to continue to follow the adventures of Charlie and Luke's bus house, you can follow the couple here on their Instagram page.
Would you like to live in such an unusual house? Let us know in the comments!
Advertisement