Boss finds his employee cooking rice in the office: he sends money to his mother and had very little left for himself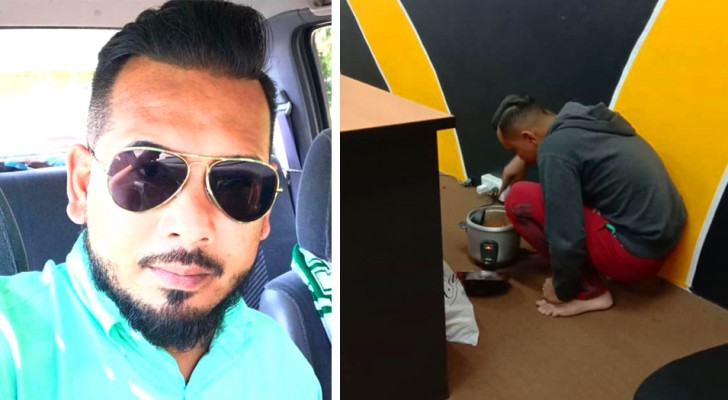 Advertisement
You have to be lucky to have a boss or manager who cares about the lives of their employees, as corporate rules and making profits always seem to be more important than anything else in this world. Fortunately, however, there are still some bosses who are willing to listen and be understanding. The entrepreneur, Azri Walter, in fact, did not at all expect to find one of his employees who, in the evening, was cooking rice in the office. Despite this being a violation of office rules, he decided to first listen to the story of the employee and tried not to pass judgement immediately. His employee shouldn't have been in the office at that time of night, let alone be there cooking rice on top of it. But, in the end, once the employee had explained his reasons, Azri was so moved by the man's story that he decided to do something kind for him.
Advertisement
Azri Walter is a Malaysian entrepreneur who did not expect to find his employee, Habil, reduced to abject poverty. He paid him a salary of $ 240 dollars a week, so he should have had enough money to buy decent food and be able to cook it at his home. When Azri saw that Habil had stayed in the office that evening and was cooking white rice, he was completely shocked. Habil thought no one would be returning to the office that evening, but Azri had unexpectedly shown up there at an unusual time to run an errand. Habil, however, did not apologize for his actions and explained his situation to Azri. Habil said he felt he had to send almost all his money to his mother: "She didn't ask me to do it, but I'm sorry for her. If I give her the money, she can use it to buy food and clothes for herself, as well as for my brothers" he explained. Habil then added: "I don't know how long my mom will still be alive. While she's still here, I want to make her happy. I don't have anyone else to look after, so it's okay for me. After all, I'm good at making money on my own now and I keep just enough not to starve."
The fact that Habil was doing all this for his mother, the person he cared most about and who had made so many sacrifices for him, made Azri stop and think.
Advertisement
In fact, the entrepreneur was able to strongly identify with the story told by Habil and expressed his own closeness towards his mother: "Habil is right. Our mothers gave us everything they could give us when we were younger". Not only did Azri acknowledge and respect the actions of his employee, but he then decided to reward him by taking him out to dinner.
This story reminds us of how our parents were our rocks when we were little, and that it is now up to us, given that we are now adults, to look after them in their old age.
Advertisement