Model "kicked out" of the Vatican because of her provocative clothes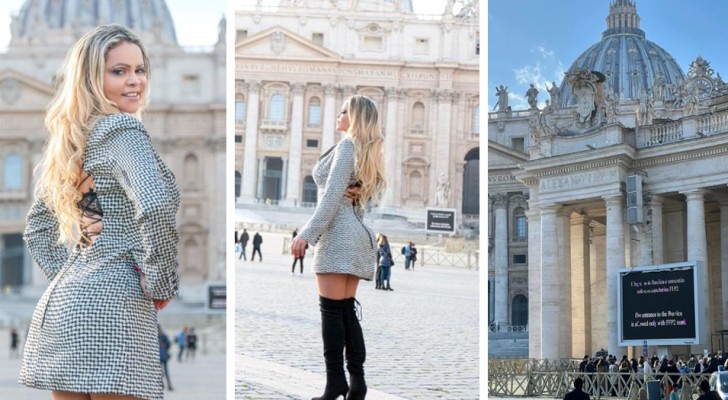 Advertisement
If it is true that nowadays everyone is free to dress as they wish - at least in many parts of the world it is - it is also true that some environments require greater attention to sensibilities around this context. It is said that thanks to a little common sense, it is possible to easily understand how to dress according to the cultural context - but this common sense is not always shared by everyone in equal measure. There are those who do not believe they are breaking any unwritten law by wearing revealing, low-cut or casual clothes in places that, traditionally, require more decorum, modesty and formality to be shown.
Juju Vieira told her Instagram followers that she was expelled from a visit to the Vatican, precisely because of her skimpy clothes which were deemed "inappropriate" for the religious venue.
Advertisement
When it comes to religion and religious venues, the rules on dress seem to be quite a lot stricter than society at large. You will surely have noticed how at church, it is forbidden to wear too low-cut dresses or skirts and shorts that are very short in summer; in other places of worship the heads of women must be covered; in others shoulders cannot remain uncovered and so on. Each place has its own "dress code", in a very real sense. Juju Vieira seems to have violated this code of the Vatican City, where she turned up as a tourist in clothes deemed "inappropriate" to the context.
Juju did not take this very well at all: "A man who worked there approached me and told me that the place was for praying and that I was not dressed properly and invited me to leave - he basically 'kicked' me out of the Vatican", said the indignant model.
Yet Juju doesn't believe she went around the Vatican City dressed like a night-club dancer - on the contrary: "I didn't even know there were rules. A sensible person doesn't visit the Vatican in clubbing clothes. I was elegant in my winter clothes, all perfectly matched. I was wearing comfortable clothes that I knew I would feel good in for long walks. Comfort was my only concern," the young woman said on her Instagram account.
Advertisement
Although she has not been given any real reasons for her ejection, the Vatican's rules are quite clear: visitors who want to enter museums, the Sistine Chapel, St. Peter's Basilica or the Vatican Gardens cannot wear clothes that are sleeveless, have low necklines, or are miniskirts or shorts above the knees. Therefore, the guards felt they had the right to eject the model. Many on the web supported the decision to remove her because of how she was dressed - but there certainly was no lack of controversy over the issue.
What do you think about these dress code rules? Let us know what you think in the comments!