Mother is afraid that her baby will cry during the flight: she distributes earplugs and notes to 200 passengers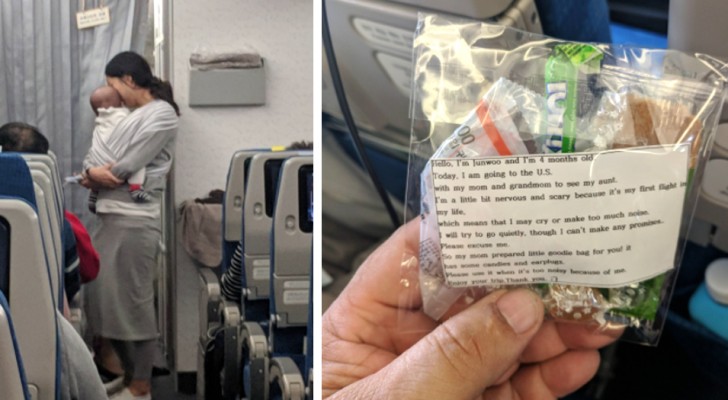 Advertisement
When you become a parent, fortunately or unfortunately you are not also provided with a manual on how to instantly transform yourself into a perfect mom or dad. This means that for many who become parents for the first time, it may seem like an insurmountable challenge to manage a newborn, especially in public. This is why a Korean mother, who had to travel from Seoul to California, decided to take precautions by apologizing in advance to the passengers on the flight in case her little son got upset and started crying. The woman did this by distributing to the 200 passengers a note with a message and accompanied by some other small items that showed how much she cared that no passengers would be disturbed by the crying of her son.
Advertisement
How many times have you been disturbed by the crying and fretting of a young child on an airplane? If the journey takes 10 hours, it may be even more unpleasant to find yourself sitting next to an infant... or even being on the same flight with one! Little Junwoo's mother knows this well and that is why she distributed a plastic bag containing this message to all passengers:
"Hi, I'm Junwoo and I'm 4 months old. Today I'm going to the US with my mom and my grandmother to visit my aunt. I'm a little nervous and scared because it's the first flight of my life which means I might cry or make a lot of noise. I'll try to stay calm, even if I can't make any promises. Please excuse me. That's why my mother has prepared some little gifts for you! Here is some candy and some earplugs. Please use them when I get too noisy. Enjoy your trip. Thank you. "
Advertisement
Passenger, Dave Corona, shared images from the scene and praised the woman's thoughtful gesture: "On a ten-hour flight from Seoul, Korea, to San Francisco, a young mother handed out more than 200 bags filled with candy and earplugs to all the passengers, in case her 4-month-old baby started crying during the flight. This was a very touching gesture on the part of the mother who knows that when you have children, you need to expect the unexpected".
Many users praised this woman's gesture, but they also urged her not to feel guilty about her child's behavior. Indeed, there are those who have been a lot more emphatic about this, even going as far as to criticise the actions of the mother: "Never, never should a mother feel guilty for having her children on board a plane! If there is an issue with grownups - for example, if they are drunk or acting irresponsibly when they should know better, that can be considered a problem. But this post and the actions of this mother are crazy and people should understand: a baby is a baby. Mothers, please don't feel guilty if your baby does what babies naturally should do!".
What do you think about this? Was it an appropriate gesture of concern, or would it have been better for this mother to have done nothing?
Advertisement