She gives birth to twins after 40 hours of labor: she thought she was only expecting one baby girl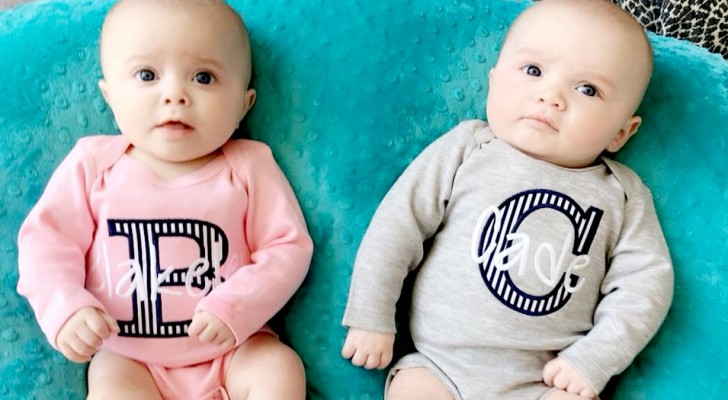 Advertisement
When a couple wants to become mom and dad, they generally can't wait for the fruit of their love - a healthy and sweet baby - to be born. It does not matter whether it is a boy or a girl, their very coming into the world is a source of insurmountable joy and happiness for the new mother and father. So imagine the immense joy that Matthew and Nicole Ziesemer felt when Nicole fell pregnant with their first child. But what they could never imagine is that the birth would have brought with it such an unexpected surprise...
via Newsner
Advertisement
Nicole and Matthew Ziesemer, a couple from Michigan, were over the moon when they discovered they were expecting their first baby. For this reason, they decided to spend the long pregnancy period in the best possible way. The two had also contacted a trusted midwife to be able to have a home birth and without going to the hospital. Unfortunately, these plans were thrown out the window due to the unexpected nature of Nicole's labor and what she had to go through when the big day came...
Not only did the moment of the breaking of her waters take place ahead of time - a fact that would already have precluded the planned birth at home - but in the end, the labor Nicole had to endure lasted a total of 40 hours. Finally, the ordeal ended with the birth of their beautiful baby girl, Blakeley Faith, on December 30, 2018.
Advertisement
But the story did not end there: the hospital midwife was astonished at what she was saw at the moment of delivery - it was the head of another child who was trying to be born. And yes, Nicole, unbeknownst to her all that time, was carrying twins in her womb!
And so, 59 minutes after the birth of her older sister, Blakeley Faith, tiny Cade arrived in the lives of Nicole and Matthew; To everyone's surprise, the Ziesemer family was about to welcome two little girls into their home. Nicole still remembers the excitement, fear and finally the joy of discovering she was giving birth to twins: "It was a shock because no one expected it, everyone in the room thought they had seen a ghost. My first thought after having given birth to the second baby was: 'Oh man! We need a second crib, a second car seat, a second everything! "
At the end of the day, Nicole and Matthew seem to have learned a great lesson from life: although many things can be planned, not every plan turns out the way we think it will!
Advertisement