Cars constantly park in front of her driveway blocking her exit: she takes her revenge by writing furious letters to the owners
There is nothing more irritating and annoying, when we are driving our car, than other people behind the wheel who clearly do not respect the various road rules and all related driving manners Between drivers who go too fast to those who go, for example, too slowly, up to the category considered the "worst" - that is, those who illegally park their car in any place they feel like, in any space, even in the one where they should never stop a car. And of course, the risk is they block the entry or exit of other cars.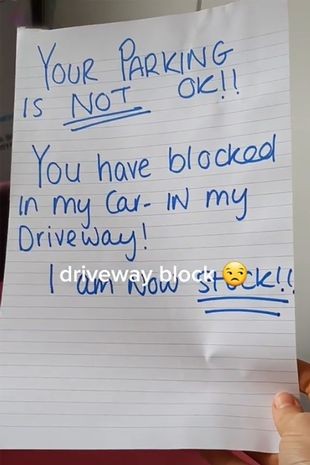 Today we want to tell you the story of Sibongile Mude, a British woman who caused quite a stir on TikTok when she described in a short video about her misadventure with some drivers that verged on the edge of ignorance and rudeness. The woman said that some drivers in her area did nothing but continue to park in front of the curb that led into her driveway - effectively blocking the access and exit route from the woman's house.
In a series of videos that have gone viral and in which Sibongile records from the window of her house the long string of cars parking illegally in front of her driveway, the English woman finally revealed what she did to "take revenge" on these rude and disrespectful people who ignore the basic and fundamental rules of driving. She started writing, and handing out, very angry notes to all the drivers of the cars parked illegally on the sidewalk of her driveway ...
In one of these notes, the woman wrote, for example: "Your parking is not OK! You blocked my car's access in front of my driveway. Now, I can't get out of the house and I'm blocked!"
Also on TikTok, the woman revealed in some of her videos - where the events were "immortalized" - the fact that some of the offending cars parked in front of the driveway could stay there for one or two hours (or more) - and without anyone telling or asking her anything. In the sea of total indifference for the neighborhood where Sibongile Mude lives, only one driver has moved their parked car to ensure that Sibongile's access was restored...
Many users on TikTok have strongly advised her to press the city council to put colored lines on the road to signal no parking, or to place cones down to dissuade people from stopping their cars there for hours and hours without taking into account the needs and requirements of others.
And what advice would you give to this woman who is practically desperate in the face of this continued uncivilized behavior?