This couple lives as if it were still the 1930s: two young lovers from a bygone age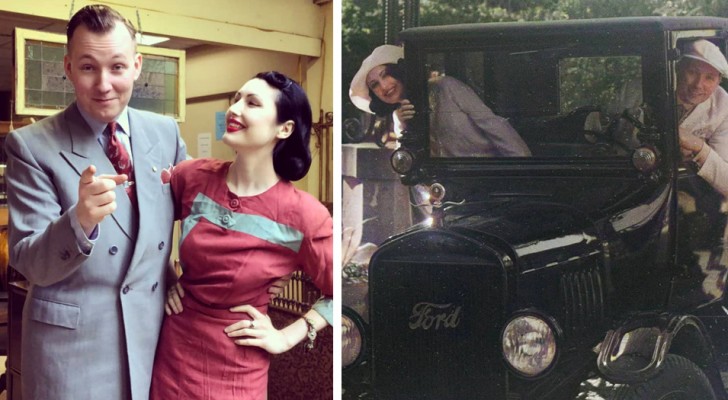 Advertisement
People meet in the strangest and most unpredictable ways and this is perhaps what makes an important meeting magical. Today, perhaps, it is easier for the destinies of two geographically distant people to intertwine and the internet with social media networks is certainly a great facilitator of this. Richard Herefeld, a German, and Steffi Kay, a Canadian, met through Instagram and what immediately sparked their mutual interest in each other was their shared passion for the 1930s. Both were fascinated by this bygone era, and they have always enjoyed dressing up in retro clothes and pretending to live in a past time. This passion of theirs meant that their paths crossed and now the two live happily together, remaining faithful to an aesthetic strongly attached to the early twentieth century.
via Instagram / richardherfeld
Advertisement
Richard Herefeld comes from Germany and was so fascinated with Steffi Kay that only 10 days after meeting her on Instagram and chatting with her, he decided to visit her in Canada. He was only supposed to stay in Canada for two weeks, but in the end he stayed for a month. Needless to say, after such a short time, the two had already decided that they would continue their life together, just as they would continue "to travel into the past" together. It is not that the two want to deny modernity at all costs, it is that their passion for a past era is simply too strong!
Steffi says that she has always been a fan of bygoneeras: "I have loved vintage and antique things since I was a teenager. I remember my aunt cleaning out the attic of her childhood home where there were so many dresses of my grandmother from the 30s. My aunt was determined to get rid of it all, but I kept my favorite pieces aside because I knew I had to have them. My style is also inspired by Jean Harlow and the golden age of Hollywood. Movies have a huge impact on how I feel and how I dress ".
Richard, like Steff, remembers having always loved this historical style - so much so that at the age of 3 years old, he insisted on wearing his grandfather's tie to family reunions. From then on, he has always followed this path: at 17 years old, he already wore a button-down shirt to school and today, at 29, he constantly dresses in 1920s or 1930s style clothes. His work, also, allows him to do so without any problems.
Advertisement
Richard, in fact, has also made his passion his job: he is a singer with a nostalgic repertoire from the '30s - so he is "forced" to dress in period clothes even for his work. Not that he minds it ... on the contrary! The house he shares with Steffi is obviously also furnished in the romantic and vintage style that characterizes past eras, especially their beloved 1930s.
People often stop them on the street when they are walking together and compliment their "beautiful 1950s clothes". Richard stressed, in fact, how little is known in general with respect to the customs of the early decades of the twentieth century. But he doesn't let this rile him up - on the contrary, he loves the fact that people stop them and have a bit of fun like this.
Would you like to dress so elegantly and historically?