Dog saves his owner's life by curling up on his body to keep him warm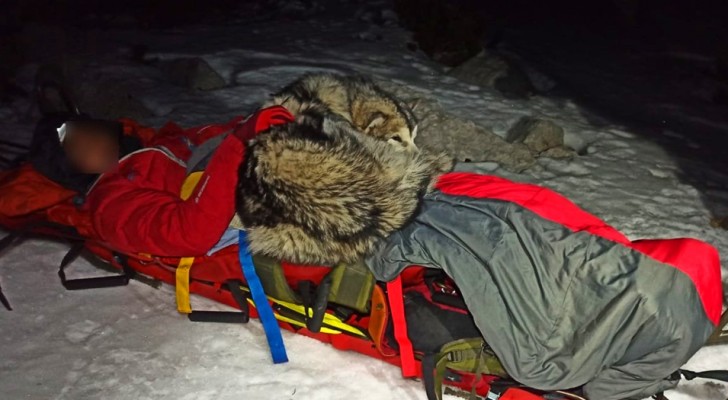 Advertisement
Mountaineering is certainly a great experience, but you have to be prepared both physically and mentally to do this activity safely. Grga Brkić and his dog, North, are certainly well trained and know what to do on top of a mountain, but that doesn't mean there are never any risks. To celebrate the arrival of the new year, 2022, the Croatian mountaineer wanted to take a trip with a group of friends on New Year's Day to the Bebie Alps - the largest mountain range in Croatia. Everything seemed to be going well, until Grga and his trusty Alaskan Malamute had an accident that resulted in the hiker breaking his leg. Unable to move, Grga waited for help for several hours, while the temperature around him dropped significantly as night fell. Luckily, his dog managed to warm him up by laying on top of him.
Advertisement
Dogs, as we know, are very faithful friends to man and North has been able to prove this even in a tragic event like the one that he and his owner experienced together.
The climb proved unexpectedly treacherous for the 8-month-old puppy, who slipped on the frozen ground dragging his owner behind him, who was unable to stop him from falling. The two were dragged 150 meters down in the fall, where they finally came to a stop. Grga's friends ran for help, but help was certainly not going to arrive immediately. The fall occurred at around six in the afternoon, but the rescuers were unable to arrive on the spot before midnight. Of course, the biggest challenge for Grga was staying alive in the intense cold. Even if well equipped, one cannot stay overnight in such places and hope to survive. His dog, North, however, knew he had to do something for his owner and like a good dog, he snuggled up on his body to keep his master as warm as possible.
Rescuers found to two of them them huddled over together and waiting for rescue: "The dog was curled up next to the owner in a pit the whole time. He warmed him with his body, thus preventing significant hypothermia affecting the climber," commented Josip Brozičević, the rescue chief.
Despite the major fall, the mountaineer escaped with a broken leg and an ankle injury, while the heroic little dog sustained no injuries at all. It took several hours before the rescuers managed to get the two survivors out and lower them down the mountain. And even in these circumstances, the dog wanted to remain curled up with his master. He didn't leave him alone even for a minute!
Certainly, this is a dog that can be considered a true hero!