Street vendor manages to send all 4 of his daughters to university and nobody can believe it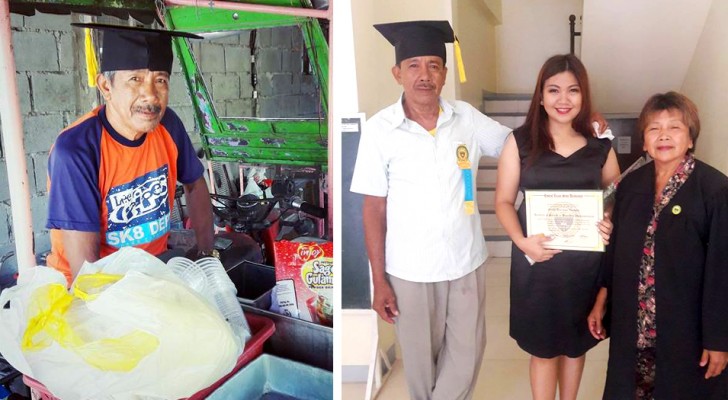 Advertisement
A parent knows that they must do everything possible to give the best that they can to their children, but this is always limited by their resources and abilities. A man, who for all his life peddled fish cakes on the street, managed to send all four of his daughters to university. And this is not a very likely achievement at all given the man's very low income. But we must not forget to account for all the sacrifices that both he and his wife have made to educate their daughters. Higher education is, in fact, perhaps the only solution to getting out of poverty and the two parents in question must have understood this fact very well.
The last of the four daughters to graduate, their youngest, expressed her gratitude to her parents and shared what it means to be the child  of a street vendor.
Advertisement
College tuition is no joke and for many parents it becomes a real challenge to be able to pay it. Girlie Versoza, the youngest daughter of the street vendor hero in this story, said that nobody could imagine that her father and mother could afford her university studies. She also said that when she and her sisters were kids, many children did not want to make friends with them because of their father's profession: "You are the daughter of the fish cake seller" they said in a derogatory and mocking tone. These words have remained etched in Girlie's mind and, years later, have resurfaced - but now with a completely different meaning. Her father had made so many sacrifices because he was a mere fish cake street vendor, but he had succeeded in enabling the education of his daughter.
Advertisement
"My daughter, you must not be ashamed of yourself. Do not force yourself to make friends with others - just be a kind person" her father told her. He repeated these words whenever he saw her feeling sad because her peers did not want to play with her due to her humble family origins. Luckily, Girlie was never ashamed of her father's job and throughout her life she did manage to meet friends who accepted her for who she was.
Her financial difficulties seemed insurmountable, yet both she and her sisters managed to graduate from university.
On her graduation day, Girlie could not help but dedicate her achievement to her parents and, in particular, her father, who had made so many sacrifices through his work. His own daughters helped him over the years to sell his street food, and this was a great life lesson for them all and allowed them grow and mature into wonderful people in their own right.
Their father, working as street vendor, made his daughters realise that there is nothing wrong with holding a humble job and, above all, that all jobs are dignified, as long as they are honest. Don't be ashamed of your roots!
Advertisement