They ask their stepfather to officially adopted them with a moving proposal (+ VIDEO)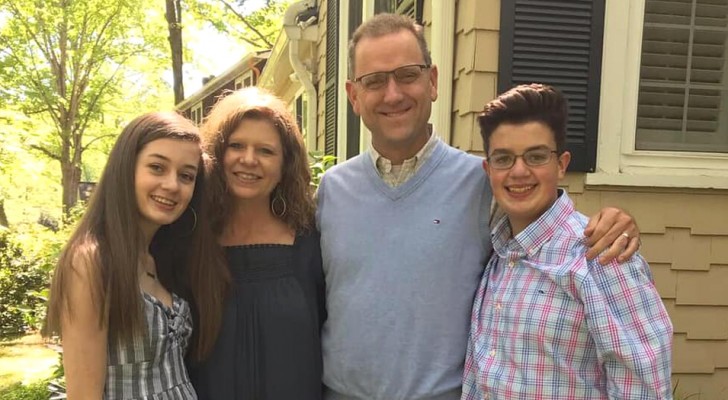 Advertisement
When a marriage ends, it's not easy to deal with all the emotional and practical consequences of a divorce, especially if there are children in the picture. Melody Powell divorced her first husband and remained single for many years, hoping to overcome the pain of separation and devote himself to her two children, Sarah and Will. She did not know that sometime later she would introduce a new figure into the family, Frank, a man who had made her find hope in love and family. It's never easy to introduce a new partner to your children, but between Frank and the kids there was a good feeling right from the start. Frank, - also in his second marriage - knew that Melody was the woman for him and that those children would be his children. For years, in fact, Frank was an impeccable stepfather. Then, Sarah and Will gave him a beautiful gift: they asked him to officially adopt them!
Advertisement
Melody knew that Frank would be a fantastic dad, also because Frank already had an older son and being a teacher he definitely knew how to deal with children. She did not know, however, that he would win the hearts of her children to the point that, years later, the two teenagers would ask him to officially adopt them. Frank for his part already knew at the time that he wanted to be part of Melody's children's lives: "I came in with the idea that I wanted to be their father. As a lifelong educator, I love children. I wanted Melody to be my wife for the rest of my life, so that was the mentality, I knew they were going to be my kids and so I would treat them as such."
Then in 2014, Melody and Frank got married and the woman's children were very happy.
Advertisement
The children's proposal:
The children grew up and, although they felt Frank was their father in all but name, they needed to make things official. How? Sarah and Will surprised Frank, with Melody's support, at the school where he works: the girl publicly asked through the school's speakers if Frank wanted to adopt them. The scene was very emotional, not least because all of Frank's colleagues were present during the announcement. Someone, however, filmed Frank's reaction, as he was in another classroom, when the incredible announcement arrived.
The man was surprised at first hearing Sarah's voice, but then he started laughing and was moved when he realized what was going on.
Frank's reaction to the announcement:
Of course his response to Sarah and Will's request was a big "yes". Finally, on March 17, 2021, all of them officially became a "real" family. Not that they weren't before, but the fact of finally formalizing things seems to have been very liberating as well as emotional. The photos of that day testify to the immense happiness and joy of the whole family.
A stepfather who stepped forward, embraced his responsibilities and, quite naturally, became the father of two children who were already a part of his life. Well done!
Advertisement