The husband passes out in the delivery room and the wife takes a photo to document the hilarious scene
We all know that the moment of childbirth is one of the most exciting and important in the life of a mother and father; although it is the mother who at that moment gives all of herself and her body to give birth to her unborn child, the father is only certain that he has a so-called "minor" role; there are those who remain outside the delivery room cheering on their partner and for the life that is about to be born, the result of their love and their desire to become parents, and there are also those who courageously decide to attend in person at this very magical and unrepeatable moment ...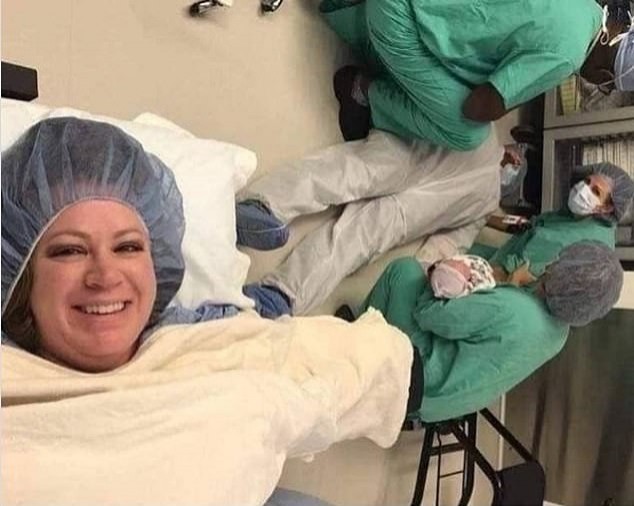 Not all new fathers, however, are able to manage the performance anxiety and the very strong emotions involved in witnessing your partner in labor and the actual birth of the baby with their own eyes; In fact, it is no coincidence that many of these fathers who insist on staying in the delivery room end up not holding up to the thousand emotions of the moment and literally faint in front of the entire medical team! Precisely for this reason today we want to show you a very funny photographic selfie that is quickly making the rounds of the web, gathering laughter and support.
We know that today with the latest technologies and with a mobile phone always at hand, we are able to immortalize every moment of our life, even the most extreme and incredible one; just like this woman did, who took a hilarious photo immediately after giving birth, but the star of the photo was certainly not the unborn child, nor herself, but her husband, sensationally passed out on the ground with emotion after wanting to witness firsthand the birth of their child!
In the hilarious and absurd photo that was published on Reddit you can clearly see the woman is very pleased with the selfie that she managed to take with her spouse; it doesn't seem to matter that he has clearly collapsed to the ground after having witnessed every step of his wife's birth and having seen everything with his own eyes; in the photo we see the medical team approaching the man passed out on the ground, trying to support him and help him recover, all while one of the midwives, most likely, has the newborn baby in her arms.
A scene which falls somewhere between the hilarious and the absurd, and we now perfectly understand why it is quickly making the rounds of the web: it's too funny!