She doesn't want to go to the prom because of the bullies: 120 bikers escort her as if she were a princess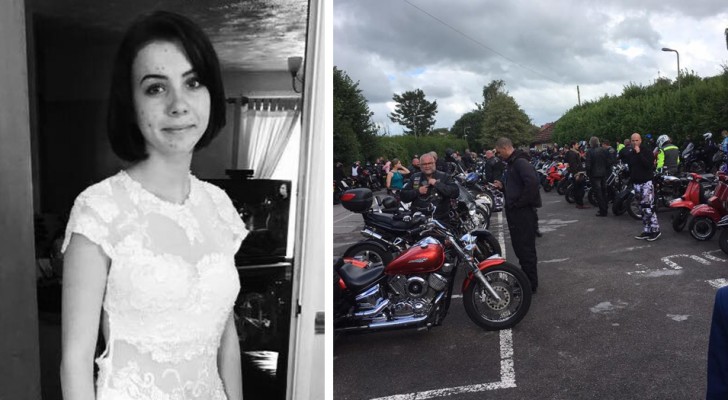 Bullying is a widespread phenomenon, especially in schools, which can be difficult to eradicate and which, unfortunately, still claims many victims. Those who manage to overcome this shameful treatment they have suffered will always bear the wounds of those moments. Being teased at school every day, and being verbally or even physically assaulted, is just too stressful for anyone to handle. Shannon Purcifer, a young Englishwoman from Gosport, gave up on going to the prom just to avoid mingling with the bullies who targeted her at school and to not feel uncomfortable all evening. A real shame as she, Shannon particularly cared about attending the prom. Luckily, something unexpectedly good happened to turn the situation around!
Advertisement
Shannon suffers from various health problems - celiac disease, ulcerative colitis and rheumatoid arthritis - and for this reason she has always been teased by her peers at school. Shannon had always been the little girl who missed a lot of school days because she was in and out of hospital very often; evidently, some kids with no empathy and common sense decided she was odd. Shannon, however, was very keen on attending the prom, so much so that she bought a $600 dress several months earlier. Yet, in the end, the girl had decided not to show up to the ball, precisely because of these unpunished bullies.
Shannon's mom Claire Carstens posted a photo of her daughter wearing the ball gown on Facebook and added:
"If Shannon had gone to prom tonight she would have been wearing this beautiful dress. Thanks to evil and vile bullies, Shannon decided she didn't want to go and spend time with the scum that made her so miserable every day. For a girl who has had so much to face in life ... celiac disease, ulcerative colitis and rheumatoid arthritis, she is a strong young woman with an even stronger mind !! I love you girl ".
Advertisement
Claire didn't think her post would be seen by so many people and she never imagined that the local community would organize another ball in Shannon's honor, to make the girl feel their full support. In addition to this wonderful initiative, 120 bikers showed up to escort young Shannon to the prom!
Shannon had a lot of fun and, as many internet readers have pointed out, this is precisely the key to defeating bullying when there are no other weapons: having fun and not letting them do harm.