A woman stops at a motorway restaurant to go to the bathroom but gives birth 10 minutes later
A couple of young lovers were traveling peacefully by car when suddenly, Kaitlyn Fullterton, felt the need to go to the bathroom. The woman was in her ninth month of pregnancy and she knew that in a few days time she would give birth to her baby. However, at that moment, she was sure that "nature was calling" misinterpreting what her body was telling her. Once they arrived at the motorway restaurant, and after the general panic, here's the exciting news: they had become parents!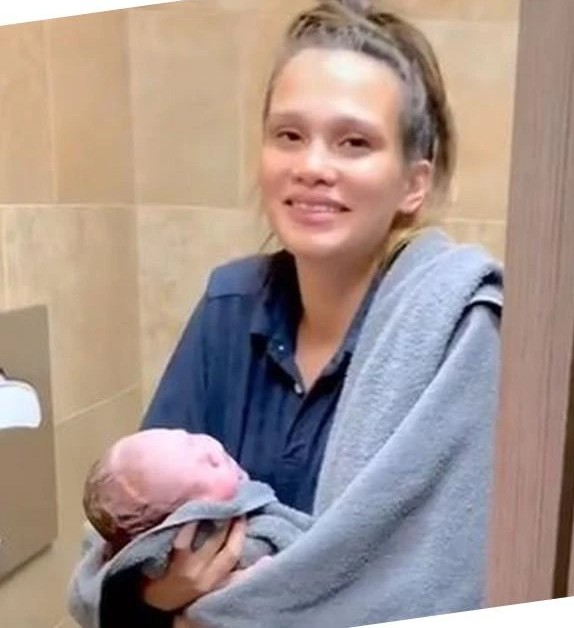 It was a normal afternoon and Kaitlyn Fullterton was in the car with her partner, Sergio Mancera. The two were about to spend a relaxing weekend when Kaitlyn suddenly felt the need to use the bathroom. In the ninth month of her pregnancy, Kaitlyn didn't seem the least bit worried about the strange feeling she was experiencing, mistaking the urge for a normal bathroom call. So, without giving too it much weight, she asked Sergio to pull over to the nearest service station.
The couple then parked at a food court in Beasley, Texas. Neither of them could have imagined that this place would mark their lives forever. Kaitlyn later told local media: "In the middle of the trip I realized I was having weird contractions and started pushing. Well, I had mistakenly thought that I had to go to the bathroom."
In the toilet, Kaitlyn - who is already the mother of another gorgeous baby - started having contractions and, within minutes, she found herself giving birth to a beautiful baby. Miraculously, the young mom gave birth without any problems, on her own, despite the unsuitable surroundings and lack of medical help.
Sergio, who was munching a snack at the bar, began to notice several people running towards the bathroom. Soon after, a lady approached him to give him the great news. Initially, Sergio couldn't believe what he was told, so he too started running to the bathroom to see what was happening. He was enormously surprised to see his wife come out of the toilet with their new baby. "I couldn't believe it," added Sergio incredulously.
Support services arrived a few minutes after the birth. Kaitlyn and the baby were taken to the Sugar Land hospital where they both received the right attention. Fortunately, both were in full health and were discharged a few days later. For the couple it was a bit of a scare, however, given the miraculous situation, they will always feel linked to that motorway restaurant which saw their second child born in circumstances that are incredibly rare.
One thing is certain, they will never forget the dramatic way Callihan, the little miracle, came into the world.