"My son is perfect!": Mother-in-law unleashes fury on her daughter-in-law when the couple are exchanging wedding rings
She didn't even let the bride finish reading her vows: the groom's mother wanted to intervene in the middle of the ceremony to criticize her future daughter-in-law's behavior.
"You can't talk about my son like that!" she shouted in the town hall where the rite was celebrated.
Despite repeated invitations to leave, the mother-in-law continued to air her grievances more and more energetically.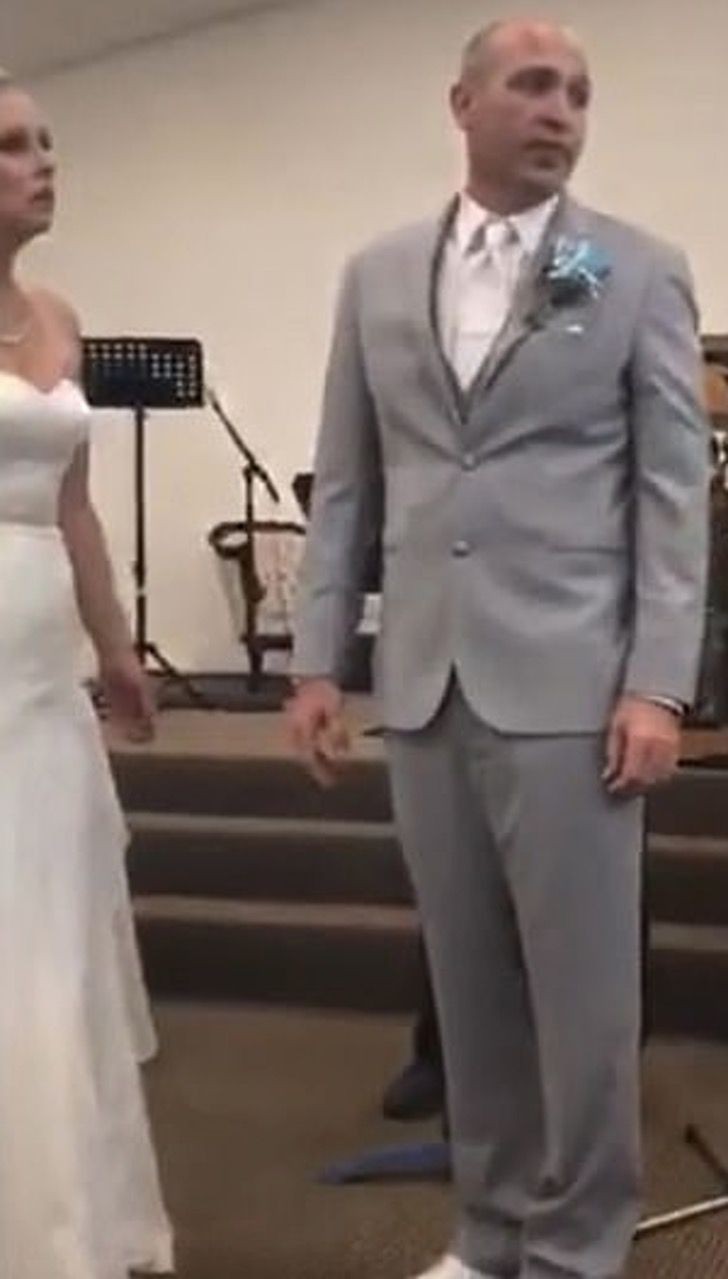 For the father of psychology, Sigmund Freud, the relationship between parents-in-laws and daughter or son-in-law has always been conflictual since the dawn of time. This is because nature would have programmed in the young man (or young woman), a sincere dislike for the adult woman (or the older man) in order to avoid any incestuous relationship. In this way, the human species has guaranteed a healthy and strong evolution.
We must say that this is not an absolute rule since there are families who live in harmony. Furthermore, good social relations involve a certain degree of tolerance and mutual respect which - in this video - have been miserably abandoned by the mother of the groom.
In fact, at the wedding ceremony Anna Larrabee, twenty-nine, had to both invite an unpleasant and hostile mother-in-law, and endure an absurd scene right in the middle of the ceremony.
"My husband John's mother," said the bride's sister, "has never hidden her dislike of her son's relationship. Her motherly jealousy blinded her and she wanted to ruin one of the most important and memorable moments in this couple's life. "
From the minute her mother-in-law, Judy, arrived at the place where the formal union of the two would take place, she didn't stop making life impossible for her daughter-in-law. She was accompanied by her sister Sarah Ragsdale, from San Jose, California, among other people, and this was the person who uploaded the video of this complex wedding scene to her TikTok account.
And the worst came when Anna and John were exchanging vows. Because just as she was reading what she had written about her husband to be, the mother-in-law started screaming down the aisle, criticizing the content of the vows, because in her opinion of her, her son has no flaws.
"You can't say my son has flaws," she tells the bride, while she replied, "You can leave. You won't ruin my marriage." Judy refused to go out with the most miserable excuse: she had paid for her dress, and therefore her presence had been acquired right. She then went on to protest against her daughter-in-law saying that her son has no faults.
At this point the girl responded energentically that everyone has flaws and that is why she loves John.
The future husband didn'tt seem to know what to do: he turned away from his mother looks at the floor, only to be told by his mother that right now he is showing his defects and that he does not know how to behave as an adult.
Despite this dramatic ceremony, the marriage between Anna and John has proved solid to this day: the two are still married and have an eight-month-old son.