A single father rides 28 kilometers every day so his children can do their schoolwork
Edemilson Wielgosz, a 47-year-old single father, and casually employed gardener who lives in Parana in Brazil, is forced to travel 28 kilometers every day by bicycle in order that his three children can do their schoolwork during the lockdown due to the pandemic; this family unfortunately did not have a computer at home, and could not afford one This gardener has a sad story behind him: for ten years he has been taking care of his three boys alone, Wellinton, 16, Amabili, 14, and Nicole, 12, since his partner abandoned them.
Alone with three kids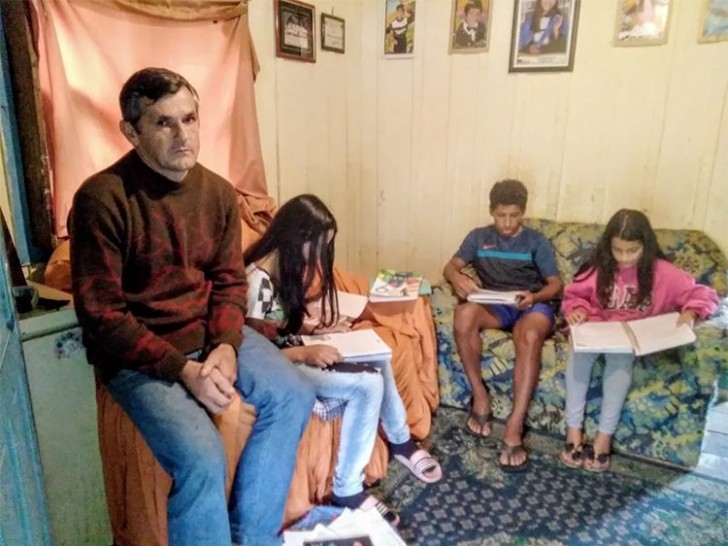 "She left us out of the blue and without any explanation ten years ago." Edemilson said in a post published online "At first it was hard, raising such young children alone is not easy. Today, however, things have definitely improved… at least until the pandemic". Having neither a computer nor wi-fi to connect to, Edemilson was forced to have the children follow the lessons in the old fasioned way: every day he went to school by bicycle in order to collect the homework set by the teachers for his children.
Fourteen kilometers to reach adn return from the small town where the school that his children attend is located.
"Getting my kids to study has always been a priority for me." said the gardener, "The fact that we live far away from the school is not a sufficient excuse." In fact, Mr. Wielgosz lives near the BR-376 highway, on the Paraná coast, and the teenagers study in the neighboring state of Santa Catarina which they would normally reach by school bus.
The importance of education
"School education is too important a resource to be neglected." Edemilson argued "It's not just a question of having an education, but also of one's dignity as an individual which is in danger of being lost by an illiterate person. With this conviction I faced the daily journey facing the rain, or the wind, or the sultry heat in the area."
Mr. Wielgosz told his story and a friend posted it online. A story that moved the community of Brazilian internet users who organized a fundraiser for him. In a short time, Edemilson saw the sum of $46,000 raised, an amount that will allow him to organize a computer station for his children and to live with a little more ease.
A best wishes for the future for this great dad and his three children!