These 3 siblings are adopted by a single dad after living with 16 different families
Being a child waiting to be adopted means living at the mercy of an infinite amount of emotions and feelings. Seeing other children being adopted and constantly wondering when their time will come can be truly poignant. Children are all the same. There are no A and B grade children. This should be understood by families who would like to adopt a child. Unfortunately, however, there are some families who prefer children with certain prerequisites at the time of adoption, inevitably condemning others to spend a few more years waiting for a real family.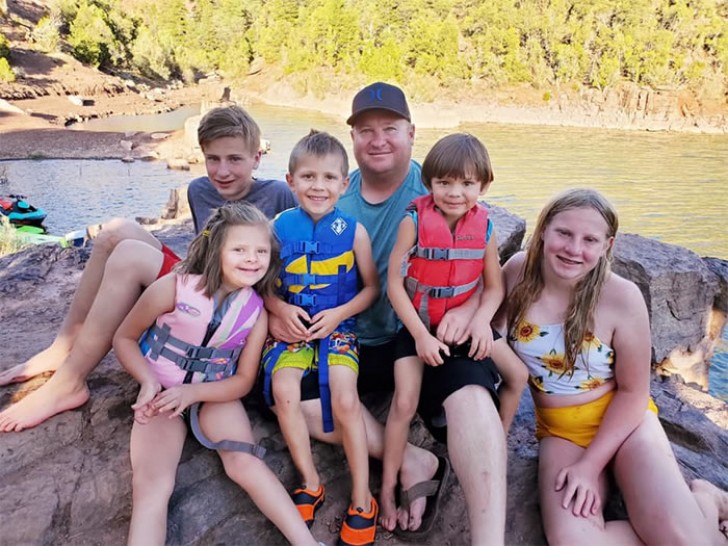 One of these requirements, for example, is age. Generally, very young children of under 3 years of age are preferred. As a result, much older children, even 9 or 10 years old, are often avoided, leaving them at the mercy of the passage of time which, as they advance, renders them older and farther away from that magical moment that they too would have have, in an adoptive family. There are some children who share this kind of experience with their siblings. This leads to a mix of positive and negative emotions: if on the one hand we joyfully await the moment of adoption, on the other the fear of being separated takes over.
Fortunately, not all stories end badly, some even have a beautiful happy ending. One of these is that of Navaeh, Willis and Miquel, three brothers of 9, 6 and 4 years respectively from Utah (United States), adopted by Darryl Andersen, a single family man who, deeply impressed by their story, decided to bring all three home so as not to separate them.
The story of these three brothers is as moving as it is tortuous. Before this joyful moment, Navaeh, Willis and Miquel (starting from 2016 and over the course of five, interminable, years), were entrusted to as many as 16 different foster families. We know very well how hard it can be for children to move from one house to another; and when the number of times increases incessantly, it can become really damaging for their mental health.
Emotionally, in fact, the three brothers were quite unsettles. It's very difficult, almost impossible, to become attached to someone when there is no emotional stability. Undergoing a move to a different family sixteen times means being inevitably ready to undergo a seventeenth, an eighteenth and so on.
This harsh experience, however, made their bond stronger and inviolable. The three siblings became aware of their mutual loyalty and understood that they would never abandon each other. It was in the light of this bond that Darryl understood how much the three children needed each other and how much a separation could damage them emotionally.
Thanks to Darryl, the three children had a renewed trust in other people now. The man, in fact, was immediately accepted lovingly and, to date, Navaeh, Willis and Miquel fill him with love and beautiful words. A very touching aspect of this story is that Darryl was already the father of three (who thankfully welcomed the newcomers). From here we can deduce how his noble gesture was not aimed at filling a void but simply to do good.
Today, Navaeh, Willis and Miquel live in a place that is not just a temporary solution but that smells like home. They will finally be able to plan their lives without being afraid of what the future holds. They will be able to wake up in the morning without thinking about where the next house will be into which they will be entrusted. They will be able to live without the fear of being separated and will be able to share happy moments, saying goodbye to the bad times forever. But above all, these three brave siblings will be able to live with a new awareness, the most precious of all: now they have a family that will never abandon them.
This story teaches us not to take anything for granted and to express gratitude for our family on a daily basis. It is a touching story that makes us realize how lucky we are to have a warm place where we can always take refuge and where we can create new memories with the people we love most in the world: our home.