"You are too old to have a child": a woman ignores criticism and gives birth to a girl at 51 years old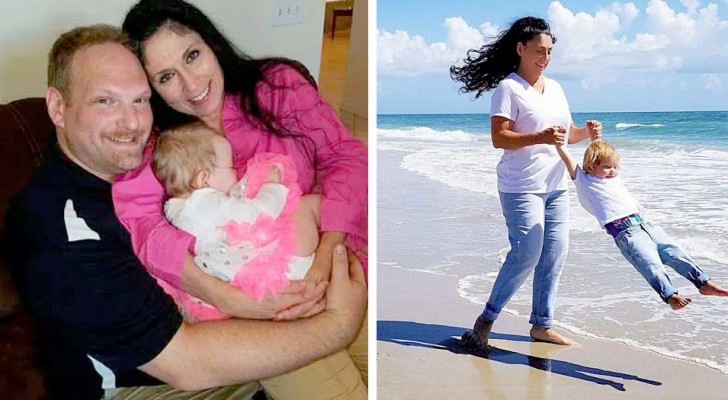 Advertisement
Motherhood is a sensitive issue for many women. In some cases (and for various reasons), to have a child, is not enough to just want one. There are women who spend many years trying to conceive a child only to see their hopes collapse in the face of yet another negative test. This condition can lead to quite heavy psychological stress; it's not easy to go to clinics and hospitals to try to find an answer that can put a stop to this long-suffering waiting. In the hardest cases, however, other women eager to have a baby have to deal with an even more painful reality, which is that they will never be able to experience the joy of becoming a mother.
via The Sun UK
Advertisement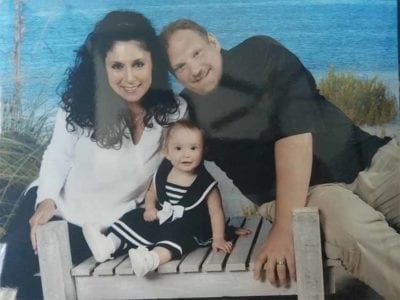 Susan Rufrano-Waitzman/Facebook
In the past, we became mothers at a very young age. Some of our grandmothers conceived children at ages as young as 20 years of age (and it still happens today). Generally, according to medical advice, it's preferable to try to have a child before the age of 30; this is because, once we pass 30, conceiving can become a little more difficult. Speaking of motherhood, today we want to tell you the story of Susan Rufrano-Waitzman, a loving mother who, at the age of 51, after years of long and turbulent waiting, managed to fulfill her dream by giving birth to her first child.
Susan's life was very chaotic. When you find yourself at the mercy of your commitments, especially if they are numerous, it becomes very difficult to even think of giving birth to a child, who once born has every right to receive all your care and attention. The icing on the cake was her relationships: Susan had not yet found a man who could become the father of her children. At the age of 44, the woman met and fell in love with Josh Waizman, the one who would become the love of her life. The bond that united them was so strong that, after only one year, the two decided to get married and start a family. From here on the road was all uphill.
Advertisement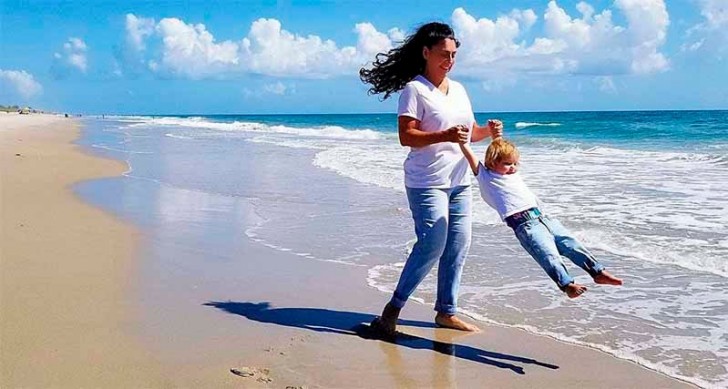 Susan Rufrano-Waitzman/Facebook
Susan first became pregnant at 46. The first few weeks were wonderful and Susan was thrilled with the new life growing in her womb. In the ninth week, however, the woman suffered a miscarriage and the world collapsed on her. Despite the immense pain of the incident, the desire to become a mother grew stronger and stronger in Susan's heart, who had a husband next to her, just as combative as she was. What she was certain was that both of them would never stop.
The couple resorted to science and tried in vitro fertilization, failing twice. Given her age and the numerous unsuccessful attempts, the doctors proposed egg donation to Susan, convinced that her perseverance and determination would bear fruit.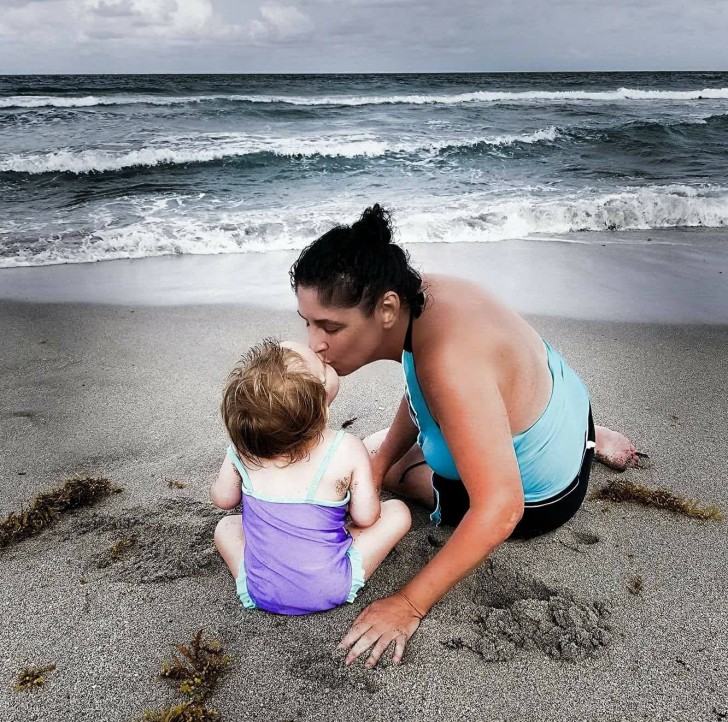 Susan Rufrano-Waitzman/Facebook
And indeed it did. After 5, very long years, at the age of 50, Susan became pregnant with her during her third cycle of in vitro fertilization and, 9 months later, now 51, she gave birth to her daughter Morgan. The moment of delivery was worrying and exhausting: with each contraction Morgan's heart beat slowed down and, as if this were not enough, the little girl was losing oxygen. Given the situation, to save the girl's life the doctors were forced to intervene via a caesarean section. Everything went well and today little Morgan is in excellent health.
Despite the past difficulties between the late pregnancy and the risky and difficult birth, Susan had to face judgment from people, who at 51 labeled her "too old to have a baby". Others people's opinions about her cast a shadow over her even during the hard battle in trying to conceive, with many people thinking she should stop treatment (given her age) and that she would have done better to give up. But Susan's goal was too important to indulge in the opinions of others and, overcoming her criticism, the woman was able to demonstrate that even at her age, conceiving a child is possible.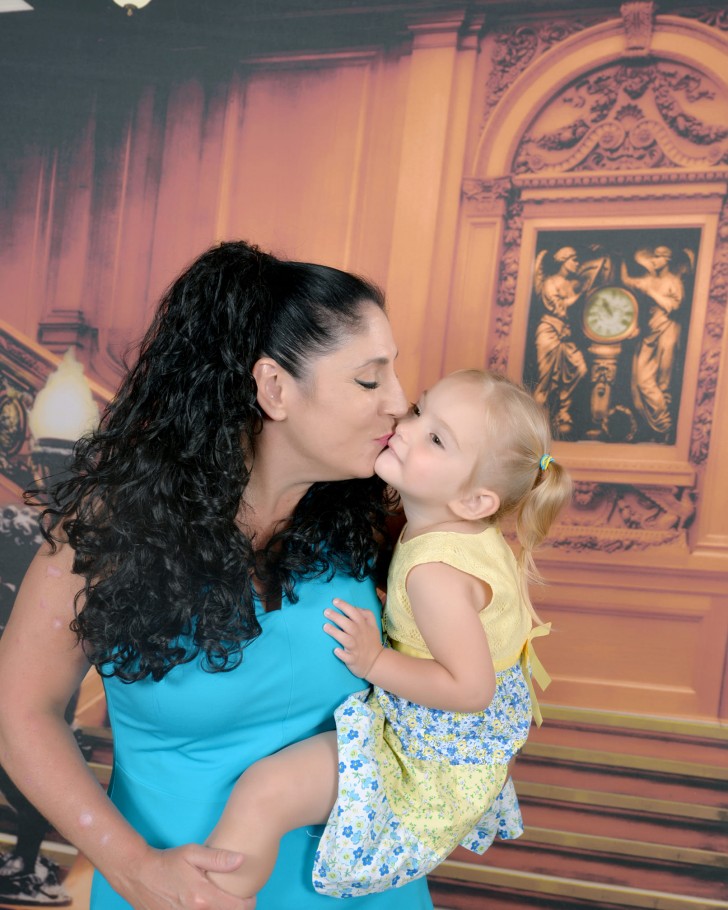 Susan Rufrano-Waitzman/Facebook
Susan didn't feel "the weight of age" at all. The fact that she was 51 didn't make her feel any less a mother than the younger ones and she was able to face motherhood energetically. Furthermore, according to the woman, there is a positive and wonderful side of being a mother at her age, which is being able to pass on even wiser and more experienced advice and values ​​to her children, which will certainly be useful in dealing with life. If Susan had allowed herself to be convinced by those who told her that she would never make it, she most likely would never have felt the joy of becoming a mother and today she would not be holding her baby in her arms. But she didn't stop there! Susan, now 56, would like to be a mother again. Her greatest desire is to give little Morgan not one but two little brothers or sisters.
Reading Susan's story, we can see that we live in a society where people tend to determine what is right and what is wrong for others. Sometimes it seems that judging a person's choices is much easier than trying to understand their motivation. If we were to listen to the comments of others we would not do most of the things we would like to do, we would cut our experiences in half and we would abandon our biggest dreams.
Advertisement