He holds his daughter in his arms during a business meeting: the photo of this caring dad moves the web
In recent years, fathers have been increasingly trying to find spaces to share with their children. The average working day hardly allows you to fully enjoy the joy of being a parent, and in some cases the only solution is to rely on babysitters. However, there are cases where parents will go to great lengths to live their lives with their children to the full, even taking them to corporate meetings on their backs as happened to Yglésio Moyses.
An unusaul dad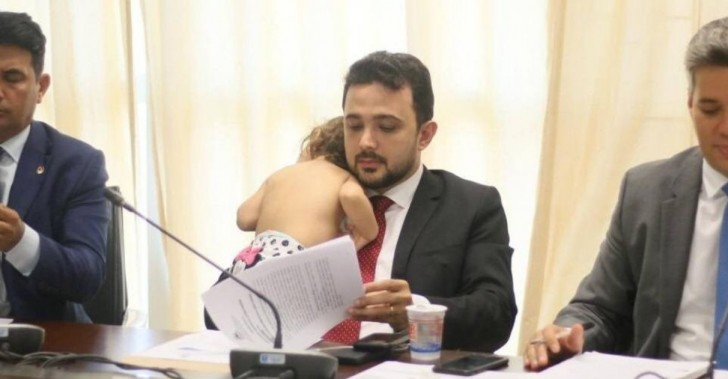 While we are used to seeing mothers sacrificing their time to devote themselves to caring for their children, a photo of a father at work with his baby can spark more curiosity. An extremely sweet gesture that also reveals the importance of not falling into stereotypes such as those of gender. Perhaps the time has come to break that cultural and social barrier that sees only the mother as the main caring figure for children. Now even the dads are finally giving their contribution!
In fact, here is Yglésio Moyses, a state deputy from Maranhão in Brazil, who in a few seconds, after having brought his one-year-old daughter to a meeting, went around the web.
Soon the media noticed the viral photo and decided to personally call the young dad for interviews. In fact, Yglésio, interviewed by Marie Claire magazine, revealed that the event shown in the photo was nothing special, since very often the father takes his three children to the office. Particularly the day his image went viral, his wife was absent to attend medical school classes.
However, he underlined, that as a child he greatly missed his father, leaving him with the desire and the goal to always remain close to his children and enjoy every second of his family.
Indeed, after a careful analysis of the story, the parliamentary father pointed out that in reality there is nothing scandalous in taking your children with you to work, and that indeed it should be an increasingly common practice. The time to devote to the family is just as important as the working time, so perhaps there's a need for a profound change in modern society.
It is not always possible to take your children to work, but where it is it's more important to seize the opportunity, because the resulting joy can greatly improve people's lifestyle. In fact, Yglésio concludes his long reflection by admitting that the closer he is to his children, the more he loves what he does! Furthermore, the young father, at the end of his interview, hopes that his example will become an increasingly common one, because the father figure is not only fundamental for the life of a child but also a great point of reference!
A courageous reflection that goes against any stereotype. And you, what do you think of the attitude of this caring dad?