Doctors said she wouldn't be walking or have children: on her wedding day she is 4 months pregnant and walks up the aisle
Do you believe in miracles? Brittney Bedwell, a young woman of 26, had been in such a terrible car accident that the doctors, after months, told her that she would never walk again and, as if that were not enough, that she would never have the chance to have any more children. The young woman reacted in a desperate way, as we can well imagine, but she reached a point where she decided to "start over". Her determination and support from her family began a kind of unexpected healing: Brittney amazed everyone when, on her wedding day, she showed up 4 months pregnant and walked, with the help of a walker, down the aisle to reach her spouse! A truly emotional scene for everyone, especially for Brittney and her sister, who filmed the incredible scene.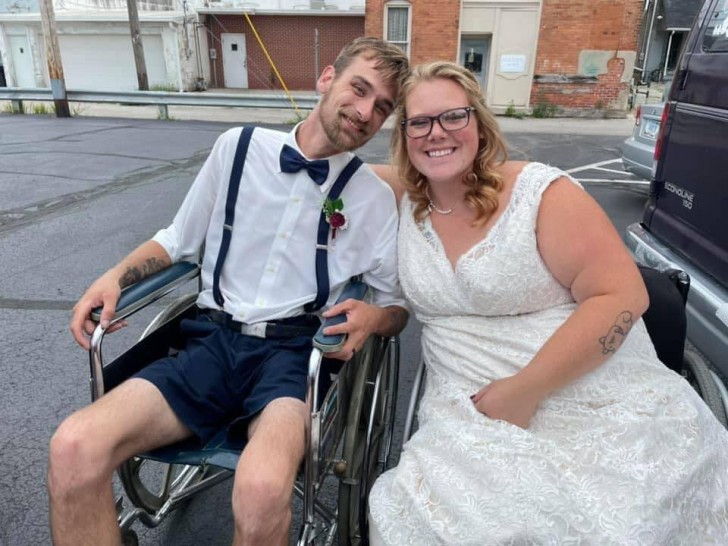 Brittney was paralyzed from the waist down after a bad accident while aboard a quad bike, and the doctors had clearly told her that she would no longer be able to walk, let alone have children. Britteny was very down at the beginning, but then she found the strength to react thanks to the presence of her children and her boyfriend, Glen, now her husband. At first, when she received the devastating news, Brittney got depressed, started to suffer from anxiety and things didn't seem to be going the right way, but one day she felt "something move" in her legs and started physiotherapy: "I'll say goodbye to that wheelchair!" she thought.
Ever since she felt that strange sensation in her legs, the young woman said she knew that "the battle was not yet lost" and that she would do all she could to regain her mobility. Plus, as if that wasn't enough, she was 4 months pregnant the day she got married to Glen, another "miracle" that doctors didn't believe was possible. She said herself: "I have my children, I have my husband and I have my family and friends and they are all on my side, so I am pushing onwards for them because they believe in me." A few days after her wedding, the expectant mother was so determined that she returned to physiotherapy, determined to abandon her wheelchair forever.
A true example of determination and courage that we hope will be a shining beacon for those who, going through a similar situation, feel lost and hopeless. Best wishes to Brittney and her whole family!